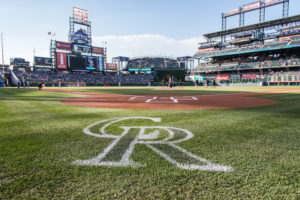 Last week I attended my Company's annual summer party at Coors Field, which seems even more apropos, as our new Cherry Creek office is located in the heart of Cherry Creek North in the Adolph Coors Foundation building located at 215 St. Paul Street.
The night started like any other night, except that it was a case of being in the right place at the right time …
While chatting with some co-workers, I was asked last minute if I would like to stand-in as a company amba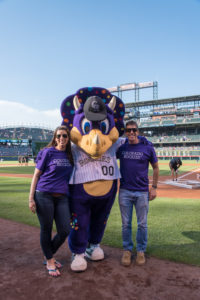 ssador during our introduction and give a cursory wave on the Jumbotron before the game. Fun fact: I've been on the Jumbotron at other Rockies games, Nuggets games, Avs games and even a Broncos game but they've always been fan shots or the embarrassing kiss-cam. I've never actually been the "star." So, of course I jumped at the chance to not only go on the field but to also be featured on the Jumbotron as a "star."
I was whisked away pretty quickly and directed down a maze of hallways under the field which eventually wound us from the outfield to home plate. Fun fact: I've had the honor of receiving a private tour of the Pentagon and all I will say is that they are very similar in terms of the maze of hallways and the unassuming, city like environment operating underground.
I walked by a number of historical placards featuring the official line-ups of every season, All-Star lists, a large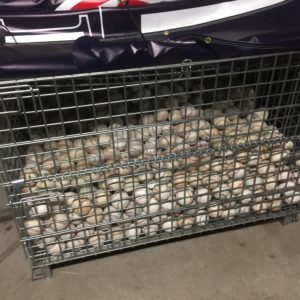 hopper of old game balls, the walk-in humidor housing future game balls, an office dedicated to video storage and of course the Rockies locker room. I even learned that the two yellow foul poles that were at Mile High Stadium are the only two pieces of the stadium that made the trip to Coors Field.
Before I knew it, I was in a green room being offered refreshment and Rockies gear while I listened to the visiting marching band practice in the hallway. To say I felt like I was getting the star treatment is an understatement.
In no time I was guided down another hallway and before I knew it I was walking out onto home plate. The players were already warming up in the diamond while Troy Tulowitzki waved to the crowds in outfield. Fun fact: This was his first game at Coors Field after being traded to the Toronto Blue Jay's.
The moment was certa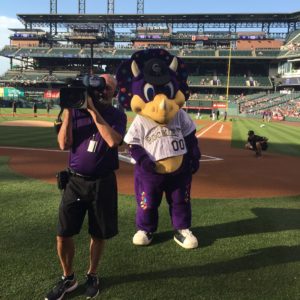 inly exciting and elicited a series of selfies and pics of the field. I was quickly lined up along the field for the big momen t. I wish I could say that I was cool, calm and collected … but of course I asn't. I was so excited about being on the field that I decided it would be a fun idea to take a photo of the camera guy standing next to Dinger who danced around trying to get my attention. Well, … as I was taking the photo, my 15 seconds of fame passed as my name was announced over the speakers a
nd I was featured on the Jumbotron taking a photo of the cameraman!!!
Oh well, it was an amazing experience and I'm so thankful to the Colorado Rockies for inviting me down to the field to have an amazing experience. I do want to send a special thank you to Justin Miller who came over to shake my hand and introduce himself. Not only was it exciting to meet one of the players, but it was so classy of him. So, thank you Justin!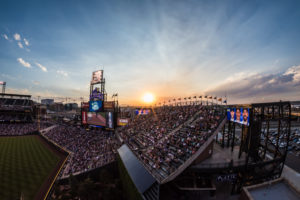 Meet the Author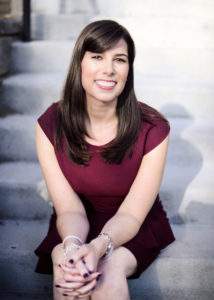 Libby Levinson made the move into real estate in 2005 and proudly joined Kentwood Real Estate – Cherry Creek in 2006. During her career, Libby has had the pleasure of helping a variety of clients navigate their real estate transactions: helping first-time buyers find their starter home; coordinating the synchronized sale and purchase for buyers looking for more space; sellers looking to down-size; and assisting sophisticated investors with their next investment opportunity. She has also enjoyed working with buyers building their dream home from the ground up. Libby is known for her ability to smoothly facilitate the complex details of both the buying and selling process.
Libby's real estate website is www.libbysellsdenver.com. She also writes for www.lifestyledenver.com.