Baker is a Historic Denver Neighborhood Located on the Outskirts of Downtown Denver
Baker is one of my favorite neighborhoods in the Denver metro area right now. They are located in the "urban core" of the city, which means lots of history and contemporary elements make up Baker's history.

One of my favorite features of Baker is the close proximity to Broadway. Baker, located just west of the bustling street, is also full of historic homes. I imagine myself leaving my riverfront home (the best we can get in a landlocked state!) and walking my two pups over to
Beatrice and Woodsley
for an exceptional dinner service.
Fitting for the holiday season, Baker is hosting it's annual
"Light it Up!"
contest for the homes in the neighborhood. Each year, residents of Baker decorate their homes for the holidays to be judged by a panel of Christmas experts! It's the perfect event to take your kids to if Blossoms of Light is just too crowded. The best part– this event is tomorrow night!
The Baker neighborhood is diverse and dynamic. The preservation of the historic homes in this area is vital to the culture of the neighborhood. That's why it's one of my favorite places to drive through—I feel like I'm visiting 1920's Denver (without a much older vehicle!).
Here is a list of some of my favorite spots to visit in the neighborhood: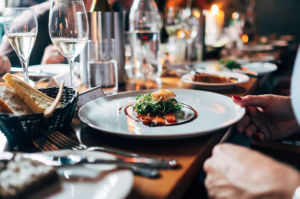 Punch Bowl Social
Atomic Cowboy
Go Fish Sushi
La Lovely Vintage
Sewn
Decade
TRVE Brewing Company
Do you have questions about the Baker neighborhood, living the Denver lifestyle, or Denver Real Estate? Contact me! I look forward to sharing my knowledge with you!
Featured Image from Westword