Own a piece of Colorado history!
32743 Upper Bear Creek Road is one of Evergreen's most historic and meaningful estates, and has been treasured and preserved by many families over the years.  This once in a lifetime opportunity to own a piece of Colorado history seldom comes along. The historic Rosedale Ranch property is situated atop 102 acres of forest with panoramic views of Mount Evans.

Jacques Benedict, renowned throughout Denver and Colorado as the architect of many locally important estate homes, was hired to design and build Rosedale Ranch in 1923 as a wedding present for oil baron, Verner Reed's daughter.   Benedict's training at the École des Beaux-Arts in France influenced his architectural sensibilities which featured graceful arches and ornamental detail. He also designed the neighboring summer White House for President Wilson, the Weckbaugh mansion still standing at the southern edge of the Denver Country Club and the Washington Park Boathouse, recently renovated by the City of Denver.  His legacy has created a culture of renovation and preservation of nearly all of his Colorado public buildings and homes.
Over the years, the estate was owned by several famous and influential individuals such as E.C. Stanfield who is credited with putting the hunting trophies in the great room.  Other notable owners were Zipperich who made his fortune in pies and developed the landmark El Rancho, Wyoming oilman, James Laird and Great Western Sugar President, Robert Owen.  Many of the original appointments remain, including the French linen wall covering, French leaded glass windows and doors, hand wrought iron, stone arches imported from Italy, hand carved Philippine mahogany vaulted ceiling, hand carved walnut trim imported from France, and a handmade fireplace screen made of Swedish steel and mica.

PROPERTY DETAILS
Main House – The main house is over 3,000 sq. feet of living area including three bedrooms and three baths and features artistically laid stone both inside and out with massive wood beams gracing the grand hall ceiling. Intricate arches showcase the beautiful outdoors from within while the covered courtyard compliments the outside of the home with stone arches mindful of an English Abbey. Benedict's Italian, French and Mediterranean detailing gracefully adorn the ballroom-size living room.  A sun room with floor-to-ceiling windows offers direct views of Mount Evans.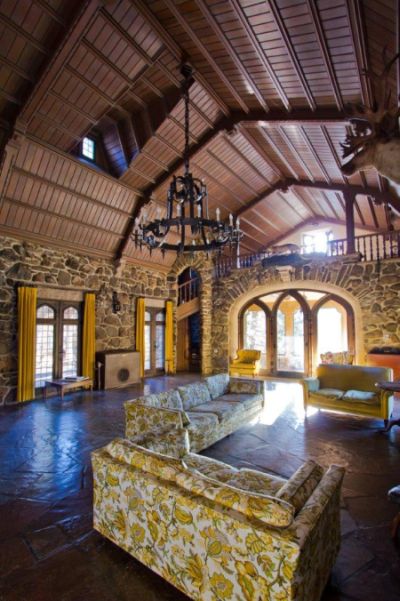 The property retains its historical importance while offering an easy template for remodeling for today's lifestyle.  A conservation easement reinforces the property's significance by limiting construction of additional square footage to 25% of each building.
The Terrace or Loggia, which forms an L shape, was designed on the west and southern corner of the house, shaded by large pine trees but open to the infinity views of Mt Evans and the property.  The Loggia features Italian carved sandstone arches and can accommodate 60 easily for entertaining.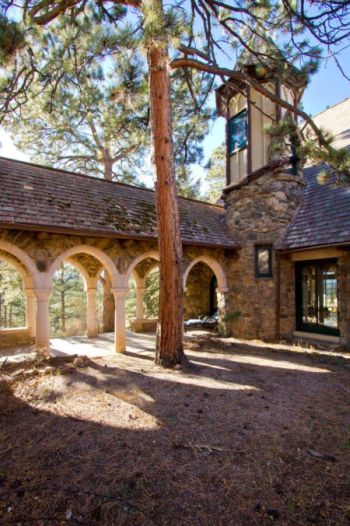 A unique feature is an underground wine storage in close proximity to the main house.  A two-horse stable and corral as well as a charming "dog house" (currently used as storage) were designed to complement the detailing of the main house.
Cottages – Original stone steps and walkways connect the main house to the 4 vintage log cottages on the estate. Beautiful  moss covered stone fences add charm while meandering  throughout the property giving one the impression they could be in England or Ireland, yet the snow capped views  of Mt. Evans and the exquisite  pine forest  all around will remind you that this unequaled retreat truly is in the Rocky Mountains. Currently rented, the cottages could be used as income generating rentals, guest suites for visiting family, or even space for a rec. room or artist's studio.
Pool Hall or Recreation House – Features large game room with fireplace, large bar for entertaining and the historic billiard table.  The house also has two bedrooms and a bath and a separate apartment below with a bedroom, bath, living room and kitchen.
Guest Cottages – Three other cottages are included on the grounds of Rosedale.  One cottage has two apartments, which each includes one bedroom, bath, kitchen and a living room with fireplace.  The other two cottages feature a bedroom, bath, living room and kitchen.
Outdoor Spaces – Enjoy the 102 acres in total privacy & tranquility. The Terrace or Loggia on the west and southern corner of the main house catches attention with a stunning arched breezeway of carved Italian sandstone.  It is shaded by large pine trees yet open to breathtaking views of Mt Evans and Rocky Mountains.  Coloradans love outdoor entertaining and the Terrace can easily accommodate up to 60 guests.  Or relax on your lounge chair for a mid-day nap or with a book, the summer breeze will leave you refreshed.
This truly remarkable property is offered at $1,800,000.  This property is protected and governed by a Mountain Area Land Trust conservation easement, which backs up to 10,000 acres of un-sub dividable open space. Details can be provided by the listing brokers.
Enjoy the history, close proximity to Denver and ski areas, pristine views and detailing of this unique and truly special estate.
Co-listed with Karen Cage.  For details and additional photos visit The Rosedale Ranch Website.