Organization Tips to Keep Your Space Clean
Getting Organized Might Be Easier Than You Think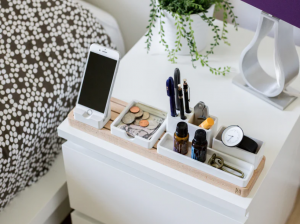 I've mentioned in many of my posts recently how staying home really makes us notice what we love and don't love about our homes. Organization is the key my friends! One that's at the top of my "don't like" list: clutter. Life has been crazy with all things COVID-19 related, which means clutter might be piling up in your home. Not to mention when your office suddenly becomes your house … things might get a bit out of control! Want your home sold faster? Have a clean, organized home that potential buyers will imagine themselves living in. I promise, it works! You might be wondering…. well, how do I start? I've come up with some tips for getting your home clean and organized for the market (or just for your personal enjoyment!). Thanks for reading and hope you enjoy!
Home is Where the Heart Is
One of my favorite parts about my job is seeing the faces of my clients when they know they've found 'the one.' Our homes are where we cultivate a life. Our homes are meant to protect us and make us feel happy. That means our organizational routines should match our needs!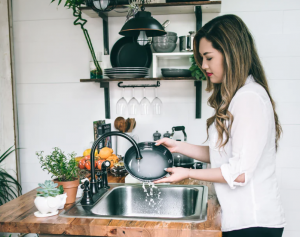 When I organize, I like to start with a plan. It's important to have one area to focus on; otherwise, you might get overwhelmed and procrastinate (and then the clutter piles up even more!). Tip: it does not have to happen in its entirety overnight. Organizing is a process and if you do too much, it might seem like a daunting task. Try focusing on one area of improvement a day. It's rewarding to complete an area that needs work; and it will probably inspire you to do more!
Some Inspiration from Marie Kondo
If it doesn't bring you joy … get rid of it! In Marie Kondo's Life Changing Magic of Tidying Up, Marie tells us that if we find something and it doesn't immediately bring us joy, it's time for it to go. This idea takes practice. But it works wonders in getting a space organized. I've always loved organizing and love getting rid of things that don't serve me any longer. This book was a game changer for me. I now fold my clothes differently, bring less 'stuff' in the house and generally enjoy my space more with having less clutter.
Storage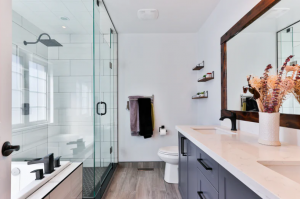 Many of us get squeamish at that thought of adding too many clear plastic storage bins. Storage is important, but it doesn't have to come from the Container Store (aka one of my favorite stores! Hello, my name is Libby and I have ELFA'd every closet in my house). I recently found the coolest midcentury stereo console. And guess what? It has wonderful storage compartments! Antique chests are also trending in the design world, and many people are using them as coffee and side tables. Another great storage option that also keeps your design plans in play!
Dedicating a Day to Clean
We all have busy schedules, and I want to acknowledge that it might be difficult to stick to this every time. But I would recommend looking at your week ahead on Sunday and scheduling some time to get cleaning done that works for your schedule. Or, while we're home all day it can be a great break to give the kitchen a quick clean in between Zoom calls. Hey, did you know cleaning can be a great way to get your self-care in, too? Having a clean space is a really great way to get buyers interested in making your space their own. Not to mention having a clean space feels GREAT!
Setting Goals
Setting goals and making plans for your organizational needs is key. Creating systems (like committing to putting the dishes in the dishwasher after use, putting a key holder by the door for your keys that you use every time) is the secrete to reducing clutter. Create a plan, set goals, stick to them, and bask in your happy space!
Do you have questions about getting your home ready for the market? Have concerns about how COVID-19 is impacting the Denver Real Estate Market? Contact me! I would love to share my knowledge with you and make this process as smooth sailing as possible for you.