Keeping Your Home Up to Date: Simple Projects and Makeovers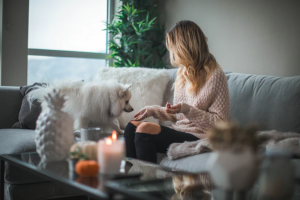 Sellers- this post is for you! Are you considering
selling this year
?  Perhaps you're in process of getting your aging or out dated home ready for the market. I know, the process of selling a home can be expensive.  But,  buyers may be less hesitant to put in an offer if they know they will have to make upgrades. Here is a list of some simple and affordable upgrades that can really make all the difference when it comes to getting the MOST out of your home!
PAINT, PAINT, PAINT
– I cannot emphasize enough how much a fresh coat of paint on the interior walls of your home goes. You'll want to paint everything the same color in a neutral, non-trendy tone. Think white or grey. Sorry, no turquoise accent walls allowed here. I suggest going with these lighter colors to make the home feel bigger, brighter, and cleaner.
While we're on the subject, it may be worth re-paiting the base boards. These show the most wear and tear and are often the most overlooked item in a home. You may not see the scuff marks, but buyers certainly will!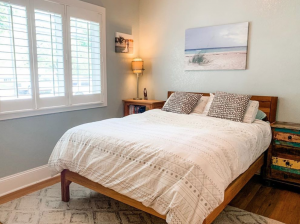 Re-staining 
– Like paint, retaining faded front doors or even the back deck can make a world of difference. New stain or perhaps a little oil treatment can make tired and cracked wood look brand new again.
Replace outdated hardware 
– kitchen and bath hardware including faucets and drawer pulls can be an easy and inexpensive swap. They go a long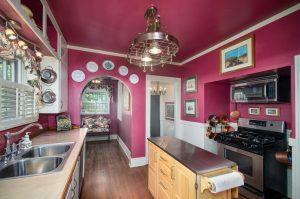 when trying to add a little luster and clean lines. Metal tones come in and out of trend as well – who would have thought brass would come back in style!
Lighting – adding a little light where you can with new and updated light fixtures is relatively inexpensive and makes the home feel bigger and brighter. Try LED bulbs. Not only are they energy efficient but they last for ages!
Replace carpeting – This one can get a bit more expensive depending on the amount of carpeting in your home, but this is the quickest way to make your home feel new other than paint! Given that you are planning to sell your home, you don't need to break the bank with expensive carpeting but please do upgrade a few levels as cheap carpeting can be a huge turnoff. Can't afford to replace your carpeting? Hire a skilled carpet cleaner to help freshen things up and get out old stains.
Backsplash
– Updating the backsplash in your kitchen can do wonders to a tired kitchen. Painting cabinets and updating the backsplash can make a kitchen feel brand new in a snap. I'm a fan of either the go-to white subway tile or a fun colorful pattern to help add a bit more of a punch.
Update the entry – again, try painting/re-staining the front door, cleaning the exterior entry, changing the address numbers out, store or replace outdated patio furniture, and put down a fun outdoor welcome mat or rug. Landscaping, gardening, or even some potted plants will earn you extra bucks. After all, this is the first thing your buyer will see!
Staging
– no one wants to buy new furniture for a home they are trying to move out of, so consider either storing bulky and outdated pieces or hiring a stager. A stager will bring in their own pieces and/or  offer a second opinion on furniture placement of your own furniture to really showcase the square footage of the home.
Clean, clean, clean – I suggest hiring a professional cleaner to do a really good deep clean of the entire house. Yes, I'm overly picky but really addressing all of those overlooked areas can go a long way!
Want a personalized home analysis from me? I would be happy to come over to take a look at your home to
give my professional opinions
on the best updates for the biggest return for investment!