Staging Your Home is a Vital Part to the Home Selling Process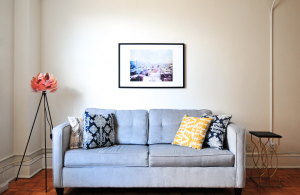 Did you know homes that are staged well sell faster than homes that are not? Having a well-staged home is vital to make the selling process go smoothly. It helps potential buyers imagine what living in your home might look like for them! Check out my steps for making sure your home is properly staged. Or, check out my do's and don'ts for home staging here.
Clutter, no more!
Clutter is a huge problem in home staging.  I often tell people to pack away 50% of the clutter before we put their home on the market. I promise that getting rid of the clutter will make you AND your pocket book feel better because studies have shown that staged homes tend to sell for more! Buyers will feel more comfortable in your home because it will feel less personalized and they're able to envision themselves making your house a home. And … hey, it's a great way to get prepared for your upcoming move!
Position furniture away from the walls!
Please, please move your furniture away from the walls, especially the beds, couches and dining tables. On the flip side, there's a common misconception that having furniture in the middle of the room makes the room feel smaller. Let's make it easy!  Stage your home like you would your living room so buyers feel more comfortable.
Transform your space
Do you miss playing musical chairs as a child? You can still do that … with your home! Your staging area doesn't have to look exactly like your liiving room always has. Get creative! This is one of my favorite pastimes. Ever since I was a kid I constantly redecorate my rooms and move furniture around. Heck it's a good workout and keeps the creative juices flowing!
Lighting, lighting, lighting!
Bring on the lighting! Make sure the blinds are open so buyers can see how much natural light your home gets. Buyers love homes that are flooded with light. I always suggest that my sellers choose light and bright paint colors to help reflect as much light as possible. The key when selling your home is to let the light in! If you aren't gifted with light, \ add warm lighting to create a home like atmosphere.
Bring out the paint!
Make your rooms seem bigger! Paint your ceilings white to give the effect that the ceiling height is higher. And, paint your adjacent rooms the same color. A small kitchen and dining room will look much bigger and will allow the rooms to feel like one space. Paint can be your best friend and it's so budget friendly. I'm going to make a quick pug here – Benjamin Moore is my favorite paint to use. Their colors are wonderful and the quality is top notch. It really does make a difference to pay the extra money for great quality paint … even if you're planning to sell. Trust me!
Display your art creatively
Displaying your art creatively allows buyers to imagine how they can enhance the space!
Serenity
Make your space serene and calming … who wouldn't want to live in a place that reminds them of a spa? It may be cheesy, but setting the mood with soothing background music for showings really does help set the tone for a calming environment. It's a non-verbal cue to buyers that living in the home will be serene. Sixty percent of the time I show a home playing light music in the background is a home my buyers want to put an offer on.
Want more tips? Heck I can go on for ages! Did you know that I give staging advice for all of my clients selling their home? I would be happy to sit down with you to give you my insights. In the meantime, here are some before and after photos.