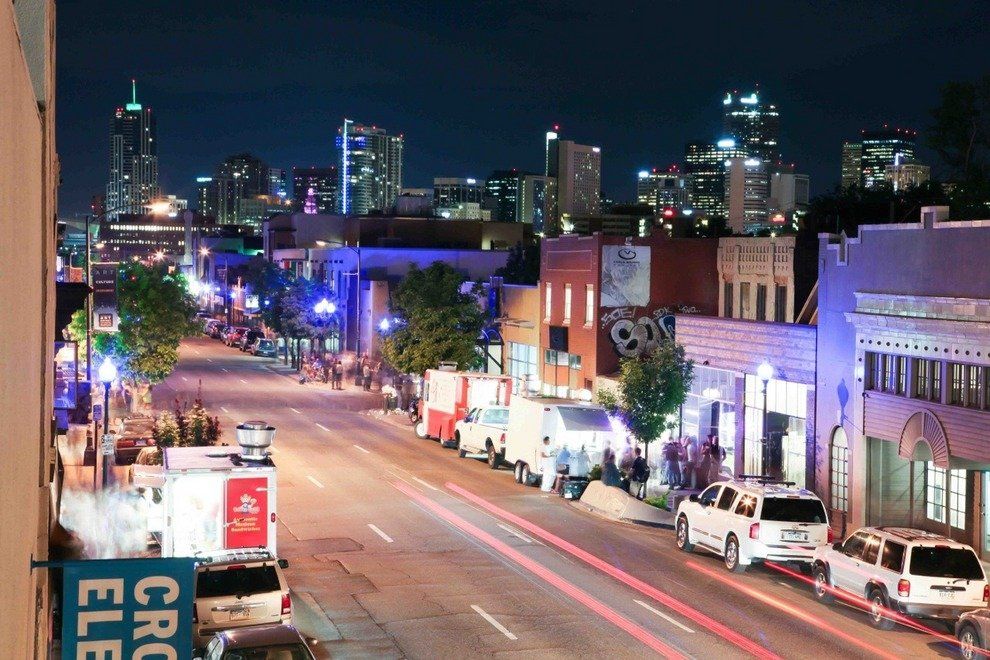 Home to Denver's largest art district, La Alma Lincoln Park is among the city's oldest neighborhoods. Situated just southwest of downtown and well served by public transportation, new art galleries, antique shops, bars, and restaurants are popping up faster than ever. On the first Friday of any given month, head over to Santa Fe Drive, the area's main drag, where artists show off their work to ever-growing First Friday Art Walk crowds. We recommend checking out this mishmash of spots to experience the district's art in its many forms:
Chicano Humanities & Arts Council (Santa Fe Dr. between 7th and 8th Ave.) is a celebration of La Alma Lincoln Park's largely Hispanic population. The nonprofit gallery and cultural center gives Latino artists the opportunity to showcase and sell their work and also hosts community events such as free art classes for kids, adult workshops, and live music. If you're looking to switch up the flavor of your home's artwork, this is a great place to start.
Ninni & Foffa's (Santa Fe Dr. at 10th Ave.) – Named after the owner's Swedish grandparents, this storefront focuses on antique furniture, upcycled handmade jewelry, and vintage gifts. If you're looking for that perfect dresser to complete your Mid-Century-Modern themed guest room, they will find it for you and custom finish it to boot!
Spark Gallery (Santa Fe Dr. at 9th Ave.) – Denver's oldest cooperative gallery's exhibiting artists work within traditional mediums including sculpture, photography, and painting, as well as lesser-known methods such as silverpoint. Members must reside within a 40-mile radius of Spark, so by purchasing from the gallery, you'll be directly supporting local artists!
Knotty Tie (Santa Fe Drive at 10th Ave.) brings its artistic contribution to the district in the form of neckties, bow ties, pocket squares, and scarves. With in-house designers, this small-batch manufacturer will give life to your ideas whether you're looking for a dozen customized bow ties for your wedding party or a one-off scarf designed with a special someone in mind. The whole process from conception to production is done in Denver and to stay true to their mission, their seamster team is comprised of resettled refugees who are paid fair, living wages.
Street Art – Viewing street art along Santa Fe Drive or searching for hidden gems tucked away in back alleys is one of the best ways to experience the uniqueness of the Santa Fe Arts District. Don't miss the Love this City mural on 7th Avenue and Santa Fe Drive commissioned by VISIT DENVER. You may recognize it as part of a three-piece series by local artist Pat Milbery — the other two are located in the Golden Triangle and RINO neighborhoods.
If free booze, food trucks, and large crowds are your thing, take this all in on a First Friday Art Walk. But if you're actually in it for the art, go on a Third Friday Collectors' Night where serious connoisseurs can chat with the artists and make purchases without the hustle and bustle. Whichever way you lean, if you fall in love with this neighborhood and decide you want to make it your own, we'd be happy to show you what's available. Get in touch with us by filling out our contact form or giving us a call at 720-935-0412 to get your new home search started!