Summer is Coming to an End, So What Does That Mean For Denver's Market?
Things looked quite a bit different a year ago for our market! Sellers feel like their homes were on the market for an eternity compared to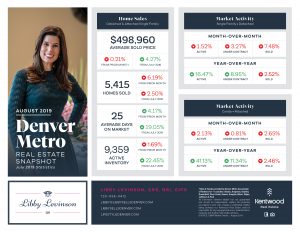 last July… The median days on the market were up over 37% this year! That might sound like a big percentage, but if you put it into perspective, sellers were only waiting an extra 3 days on average for their home to go UC. It's taking an average of 29 days to sell a home in Denver. Not too shabby, as I remember the old days when it would take an average of 9 months for a property to sell!
It's been a hot summer… so homeowners were maybe lounging by the pool, going hiking, or vacationing, right? Well, they sure weren't putting their homes on the market! This means residential listings coming on the market were down by over 12%. The pool of active listings got just a bit smaller last month, which means we are still in a sellers market, guys and gals!
Despite still sitting in a strong seller's market, I'm seeing a shift that's favoring buyers just a but more. Price drops are on the rise and are far more frequent than this time last year. Additionally, price growth is still a hot topic in the Denver Metro Area. However, I'm not seeing quite as much price growth happening around the city. Last year, 40% of Denver metro zip codes saw a price growth, whereas only 5.60% saw that same type of growth this year.
National Press!
Guess which Denver neighborhood was ranked 14th nationwide for top master planned communities? Stapleton! Additionally, Boulder  and Denver ranked number 8 for most tech talented spots in the nation. Gotta love it when Colorado is getting some major national press!
For home sellers, I have some news. Home builders are reporting an increase in foot traffic and sales in our competitive market. Make sure your home is in tip top shape to keep up with the new construction homes that are popping up around the city. The flip side of this may mean that some of these new buyers who are building their "dream homes," may be listing their house later this early or early next year. I have some clients doing the exact thing right now taking advantage of the low interest rates.
Saying that, let's talk about mortgage rates. They're continuing to hover near 3-year-lows and application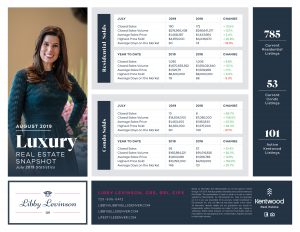 demand has skyrocketed! Mortgage rates are only .50% higher than their all times lows in 2012. It's my job as a Realtor to help keep this in perspective for my clients so they're not waiting for rates to fall even lower. It's a great time to buy, so if you're thinking of making the jump into the Denver market give me a call!
Quick Stats!
The average number of active listings for July ended at 16,796 (1985-2018).
Record high July was 2006 with 31,989 listings
Record low July was 2017 with 7,352 listings
July 2019 ended with 9,359 listings
The 20-year average change in active listings from June-July represented a 3.45% increase
Do you have questions about buying or selling in Denver? I'd love to chat with you! I can help make your home buying/selling process smooth and efficient. I look forward to hearing from you!