Just Because it's New Doesn't Mean it's Perfect
But, A Home Inspector Will Help You Get Your Home as Perfect as Possible
I am currently in the process of working with 6 new construction homes, 4 of which have had inspections in a very short amount of time. Clients approach this process thinking that because the home is new and passes all city inspections, it's perfect. However, this is not always the case. City inspections, which include electrical, plumbing, roofing, and the like, are not always completed properly and often miss a few elements. It is important to have an inspector assess your home before you buy, and this is especially the case with new builds.
An inspector once shared a story with me about the sewer line associated with a new build. He found that the builder had never connected the sewer line to the sewer tap on a multi-million dollar property. Had this not been found, the sewer system would have worked improperly and could have caused extensive damages. Having the sewer inspected is essential, as the soil for new construction is so new and the sewer may move around and settle incorrectly as the soils compact.
Similarly, I recently had an inspector call out further work for the furnace. On second look, the HVAC company discovered there was a missing return duct. The furnace would not have worked properly and would continue to fail had this not been discovered.
Additionally, there is a test for radon gas, found in soil, that we perform in basements that I recommend during inspections. Some builders won't include a radon system at all, and some will issue a credit for installation after closing. Others may include a passive radon system, meaning there is no fan attached. The homeowner can add a fan themselves, making it a true radon system. These are important elements for homebuyers to know before purchasing their homes.
Not All Builders Are Created Equal
To ensure we see everything that needs to be addressed, I like to make a punch list with my buyers. Small things, such as paint touch up or scratches in cabinetry, fall under this category. From there, we contact the builder to have these items addressed.
Buyers often go to new build communities and are told they don't need a realtor and that they're protected at the sale center. The individuals at the sale center employees of the builders and are not licensed, meaning they are also not Realtors and don't have to abide by a code of ethics. Buyers are also told that they do not need an inspection, but they absolutely do as the city inspectors do not catch everything. In short, it's important the Buyers have their own representation when dealing with builders so they can ensure someone is in their corner counseling them on contract terms and recommended inspections.
Not all builders are created equal, and it is important to know exactly what is, and is not, included with the purchase of your home. In the last few weeks, I have experienced one of the most difficult new home build inspections I've seen, and also one of the best. I was thoroughly impressed with the neatness and clarity of one of my most recent experiences, where all aspects of the home were labeled and clearly explained for my homebuyers.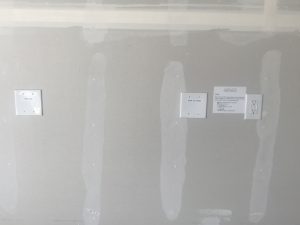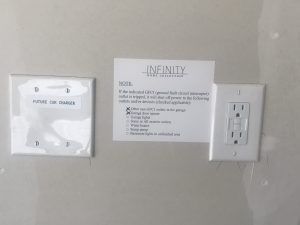 In these photos, the builder labels the outlets as "future solar" and "future car charger" for homebuyers.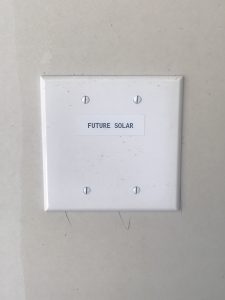 In this next photo, the builder includes a sump pump and back-up alarm, which most builders do no install. They have also enclosed the plastic top view portion and included a passive radon system.
This photo shows a well labeled furnace at this new build. The builder included arrows to show homebuyers which way to insert the filter when the time comes to replace it (recommended once a month).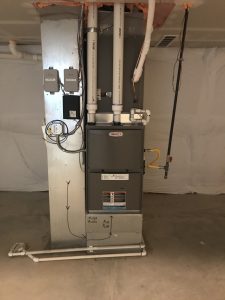 This builder also labeled the primary and secondary drain off the furnace, which I've never seen before!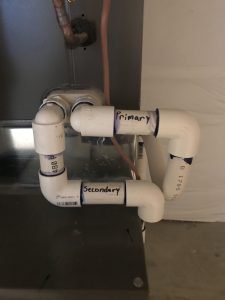 In short, all builders are different and have varying levels of the quality of construction. It is crucial to have your home inspected prior to purchase so you know your new home is as close to perfection as possible.