The Black Friday Deals Continued in the Denver Real Estate Market
What's Happening in the Denver Market?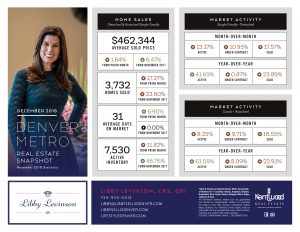 Denver's market appears to be shifting towards the buyers, and with this evening out, we're seeing tougher negotiations on price and inspection terms. Additionally, Denver's market is on trend with what we've seen over the past seven years, regarding seasonality. Inventory tends to peak in September, and then begins to decline from now until February.
While this trend is normal, the market feels slower this time of year than it has in previous years. So, many listing agents, myself included, are going back to the basics! We're letting Santa know that we would like to have our listings sold by the end of the year, so we're sending flyers, postcards, and marketing materials through the mail as well as online tools.
The fabulous news for the Denver market is that while rates are increasing so are the conforming loan amount limits. In 2017 the National average was $424,100 for the maximum amount a buyer could borrow for a conventional loan. Denver is a metropolitan area so we tend to see higher limits than less populated areas with lower price points. Saying that, the new limit for Denver is $529,000 which makes it easier for buyers to obtain higher loan amounts to afford Denver's raising home prices. Keep in mind that the average home price in Denver is $505,990  so this new loan limit does make the American Dream of owning a home in Denver more attainable.
Denver is experiencing a slight slow in migration as well. Areas with the most new apartments becoming available are seeing declining rents. However, apartment supply might be diverting some tenants who might have otherwise purchased homes to continue renting. Metro Denver's rent rates are about 1/3 higher than the nation's, yet incomes are not 1/3 higher than the national average; this might be contributing to the migration slow.

The Colorado Housing and Finance Authority brought some great news last month! They have raised effective income limits to $115,600 for many of its downpayment assistance programs (regardless of country or household size). This is up from $89,900 previously. More buyers are qualifying and it's becoming easier to afford some of Denver's homes.
My Opinion on the Luxury Market
I was recently published the Denver Metro Association of Realtors Market Trends Report giving my opinion on the Luxury Market –
The Black Friday Deals continue in the Denver luxury market through the month of November. The luxury sing-family home segment is sitting at 7.22 months of inventory, whereas the luxury condo market is sitting at 6.67 months. This is an important indicator as this shows that the Luxury Market is officially a buyer's market.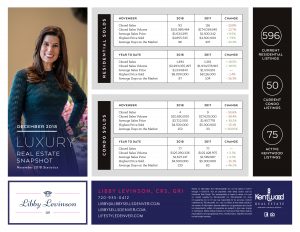 Close price to list price is sitting at about 97% for both segments. However, the increased inventory tells a different tale. Month over month, sold homes showed a decline in the sing-family segment with 106 homes closed compared to 158 in the month of October, while the condo market didn't see a change with 15 units sold.
There is encouraging news for next year! Year to date, the single family luxury market experienced 1,851 homes sold versus 1521 in 2017. Conversely, the Luxury condo market experienced 170 units sold in 2017 with slightly less units sold in 2018 with 167. Interestingly, the days on the market for single-family homes have held strong at 73 days for November and October, as well as November 2017.
Do you have questions about Denver's Real Estate Market or Living the Denver Lifestyle? Contact me! I look forward to sharing my knowledge of the Mile High City with you!