Real Estate Love Was In the Air Last Month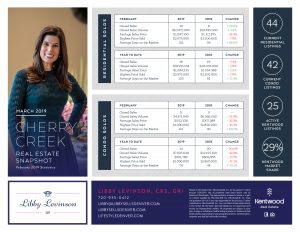 If there's one thing last month showed us, it's that buyers were LOVING the homes they were seeing on the market. 15.46% more homes were put under contract in February than in January. If that doesn't say, "Happy Valentine's Day" I don't know what does!
Perhaps the increase in the number of contracts can be correlated with the number of homes to choose from last month.  There was a 5.60% increase in listings in February compared to January, and there's a 47.33% increase in active listings from this time a year ago. That's pretty drastic, which means Denver buyers had something to celebrate all month long.
Denver is pretty much a magnet for millennials at this point. Over half of these individuals are moving to find a better homes, better neighborhoods, and to form households. This could also be contributing to the increase of number of homes we've seen go under contract at this point in 2019 compared to 2018. The cold temperatures aren't slowing buyers down!
It feels like everywhere I go I see large patches of ice. The snow doesn't seem to be melting and it finally feels like we're seeing a real Denver winter. Despite the cold, market activity is not slowing down in the way the ice makes me slow down. It was a slow start to the season, but we're really ramping up for spring. Showing activity has remained strong, and buyers are increasing their budgets. Why is this? Denver is seeing more and more listings in the 1 million plus range.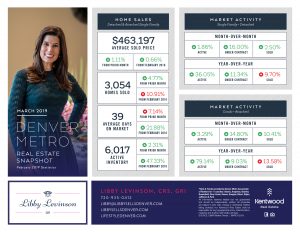 According to a recent study done by Forbes, Denver has the most competitive housing market in the country. That being said, working with an experienced realtor who knows the ins and outs of our ever-shifting market will help make this process an easy one! Never fear….Libby is here! (for your buying and selling needs).
What About the Sellers?
What about the sellers? Overall, Denver still has a very strong seller's market. Additionally, there's an average of only 1.92 months of single family inventory available. That's not very much. Despite buyers finally seeing some clarity in our market, these numbers are important to remember.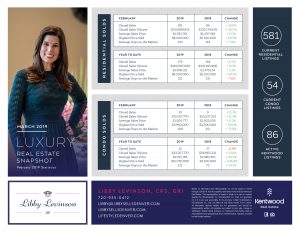 What's going to keep ushering housing demand this year? We'll start with the strong job market and gradual decline in mortgage rates. Mortgage rates continued to fall in January of this year. Additionally, mortgage purchase applications were up 6% during the last week of February.
All-in-all, Denver is a very popular city to inhabit right now….and our market is feeling that! The best way to stand up to the pressure is to share your expectations with your realtor from the get-go. That way, your buying/selling process in a very competitive market can go smoothly.
Are you interested in talking with me about living in Denver, our market, or buying/selling? Contact me! I can't wait to share my knowledge of the market with you– and maybe while we talk the snow will start melting!