May Has Arrived: the Flowers Are Blooming, Bees Are Buzzing, and The Denver Market is Too!

May has arrived, which means the Denver Metro Association of Realtors market stats have too! You can download the report here. As warmer weather permeates the Mile High City, Denver continues to be a neighborhood specific market. The overall inventory is up, seasonally. However, inventory is down from April of last year in the metro area.
Denver is 1 of 28 U.S. cities that's growing by at least 1%/year, rounding out at about 1.77%. With this, rents are expected to rise by about 3.6% by next year. Amazon's pick for their second headquarters will have an influence on rent prices, causing rents to potentially increase 2.3% at 5.9%.
The Denver market is still extremely competitive. Many offers are coming in at5- 10% over listing price. Properties priced under $500,000 are still selling quickly if priced appropriately. It is expected that, if a property is priced and marketed correctly, it will go under contract within days of hitting the market, if not within the week.  May agents subscribe to the trend of listing homes on Thursday, allowing showings on Friday, and collecting offers throughout the weekend so that homeowners can review by Monday morning.
Denver ranks 2nd in the nation for per-capita new multifamily construction spending. Denver's spending on new residential multifamily construction increased 12% from 2000 and 2016.
The Green Roof Initiative went into effect on January 1st of this year. There are concerns that unintended consequences will emerge. These includes increased construction costs leading to pricer homes in a market where there is already a lack of affordable housing. As builders are forced to adhere to the new legislation they are passing the increased costs to buyers. While the green roof initiative is a great example of helping to make Denver a bit more green and sustainable, the economics are working against buyers who are already feeling the pinch in this tight market.
Important Numbers from April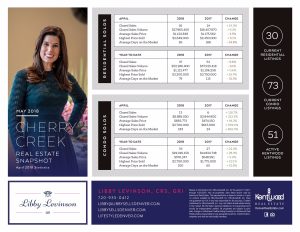 The average active listings for April are 15,710 (1985-2017). The record-high April was 2006 with 29,045 active listings. The record-low number of active listings for April was in 2015, with 5,025 listings total. April 2018's active inventory for residential homes was 5,160, an 11.71% increase from the prior month and just slightly  above the record low month few years ago.
Year to date, 15,387 homes have been sold. This is down 4.27% from the previous year. Condo and single-family homes are also seeing an increase in inventory from last month. The number of active single family homes have decreased 6.71% from last year. The condo market has increased 6.16% from the prior year, and continues to see a steady drop in number of days on the market.
Let Me Help You Make the Next Step!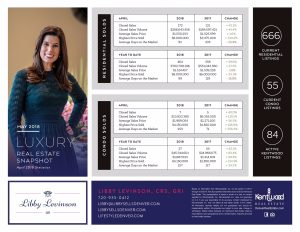 I would love to help you with the buying or selling process! I know it can be intimidating, especially with Denver's current housing market, but I know I can help you enter your next exciting next stage. Get in touch with me via our contact form or libbysellsdenver.com, and let me help you start the next chapter!
Note: All data has been sourced from the March Denver Metro Real Estate Market Trends Report compiled by the Denver Metro Association of Realtors and includes 11 counties: Adams, Arapahoe, Boulder, Broomfield, Clear Creek, Denver, Douglas, Elbert, Gilpin, Jefferson, and Park.