Making a Move During the Winter Months Has Some Great Advantages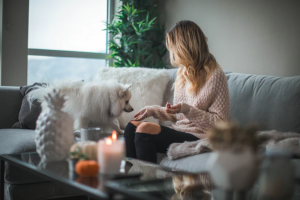 It's a new year and new decade! Maybe it's time for a new house? Denver's real estate market is traditionally the strongest in the Spring – think March, April and May. Saying that, I love working during the winter for a number of reasons. First off, there's less inventory for seller's to compete against. So, while your home may really "shine" when your garden is in bloom, it may stand out more when your garden is sleeping. One of my favorite tricks for sellers in this scenario is to take photos of your garden while it's at its' peak so that you can use these photos to help market how wonderful your garden is while it's dormant.
Saying all of that, selling a home during the winter months might feel intimidating. It's cold outside and leaving your house for strangers to tromp around with snowy boots may not be all that appealing to you. But let's talk about the benefits because there are quite a few!
Who House Hunts During the Winter?
Winter house hunting, especially in December and January, is typically slow. Buyers who are looking for a new home this time of year are generally seriously motivated and mean business. More often than not, I find that many Buyers have leases that expire early Spring and as such they are working against a clock and need to be into their new home ASAP. Additionally, they are eager  as they typically hold off looking over the holidays and are rearing to go come January.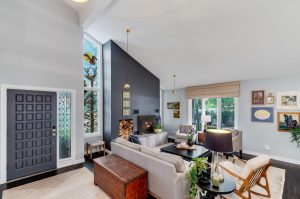 Curb Appeal
Winter curb appeal: it's a thing! But, that also means you might have to work a little bit harder to get your home looking as appealing as possible. Yes, you will need to shovel your walk after every snow fall! If you don't live at the home you are selling, may I suggest that you hire someone to help alleviate stress and make sure your home is always "showing ready." The numbers of daylight hours is fewer, so adding lighting to your front pathway can be a helpful for buyers to feel comfortable walking around your house but also a smart ways to highlight any potentially icy spots.
Make Yourself At Home
Light a candle, add an extra cozy blanket to your couch for showings and turn your stereo on softy for great background music. These are very simple, yet huge ways to help make buyers feel at home. If they feel welcome and relaxed in your home they may just imagine themselves living there.
What About The Holidays
Yes, it's customary to leave holiday decor up through the end of the National Western Stock Show, but all bets are off when selling your home in the winter. Please, please, please take your holiday decorations. We are well into January and if you are trying to sell your home the holiday decor needs to be tucked away.
What Now?
Focus on getting your home in tip-top shape. Paint what needs to be painted (and check out Pantone's Color of the Year!), clean what needs to be cleaned, and channel your inner Marie Kondo. Getting your home ready for the market is just about cleanliness and aesthetics as marketing and pricing it right!
Are you thinking about selling this winter? I would be happy to schedule a meeting to help you get your house ready for Denver's winter real estate market. Every house is different and I love catering my services for each and every client.
2020 is bringing a lot of exciting changes to my life. If you're feeling the need for change like I am, give me a call! I would love to meet with you for coffee to chat about your buying/selling needs. As a Denver native, I know a lot about this market and what it means to live here. Let me help you find the right home/neighborhood for you!