Buyers Rejoice! The Market's Changing Conditions Favor Buyers for the First Time in 4 Years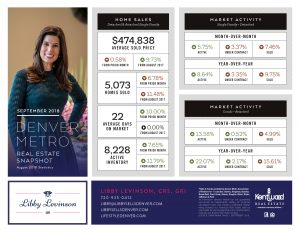 Buyer activity slowed last month, which means we're seeing fewer multiple offer scenarios. This year, August was close to its record low with 8,228 active listings compared to 2016's record low of 7,327. Additionally, the average change in active listings from July to August had the highest percentage ever recorded with an increase of 7.65 percent (compared to the 20 year average of of 0.16 percent).
Labor Day has signaled the beginning of our seasonal downturn. The strongest sellers market in Denver's recorded history is beginning to shift. Buyers rejoice! Our changing market conditions are something for homebuyers to be optimistic about, with more days on the market, higher inventory, and a slow in price growth as aspects for buyers to look forward to.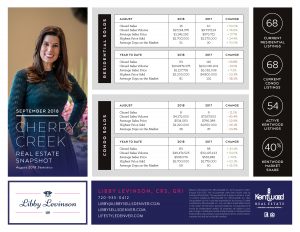 Colorado is ranked as having the best state economy for the second year in a row. GDP and job growth in the Centennial State can be credited for this; Denver comes in at number 6 in the country for most profitable housing markets.
Mortgage application volume was down by 4.5 percent compared with last year. Additionally, the median income required for a monthly mortgage payment increased by 17.1 percent this June, perhaps the reason for the slow of applications.
Did you know millennials will spend $93,000 on rent before they are 30 years old? An average of 48.6% of renters believe they must put down 20% for a home purchase. However, VA and USDA are 0% down, and first time homebuyers can qualify for as little as 1% in some cases. It's time to seriously consider buying, given the market slow down and the opportunities payment assistance funds offer to buyers.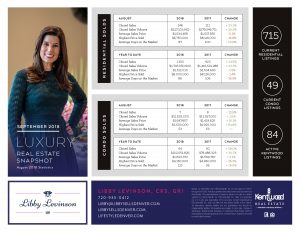 The cost of waiting to purchase your home is significant. Don't sit on the sidelines while interest rates increase (by 5.1% in 2019). Additionally, the cost of a $425,000 home one year from now will be $23,800 more ($286/month increase in your mortgage payment). There's a 13% increase for waiting, which means it's time to take advantage of our slowing market now!
Want to learn more about Denver's Real Estate Market? Contact me for more information! I'm excited to start the home buying/selling process with you.