Make Your Home Shine with Photos that Say, "Buy me!"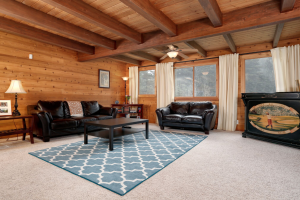 It's no surprise that home buyers start their new home search on-line. So, I've rounded up the top 10 tips to make your home shine for buyers when they're checking out your house on-line. I find that the better the pics are I have more showings on the onsite and quicker sales.
De-clutter

I know, I know – what a pain! But, I promise you will see a return for your hard work. Typically, I suggest that people remove 50% of the items that are out in their home before we take photos of their house. It helps to de-personalize your space so that home buyers can see themselves in the space. It also helps to remove extra items and décor pieces so that buyers aren't distracted by your furnishings and can't see the actual space.

Give the exterior of your home some love

This is the buyer's first impression of your home, so make it count. Make sure the yard is clean and tidy. Make sure the front of your home is picture perfect including the removal of cars, trash cans, hoses, garden tools and toys.

Turn off ceiling fans and change out your light bulbs

Sure, ceiling fans have a function, but please turn them off before taking photos. The blades will look blurred if you leave them on and can be rather distracting.

Clean-up the kitchen

The kitchen is the heart of the home so make it shine! A clean and clear kitchen gives buyers the wow factor, so dial up your kitchen's strengths and let is shine! Make sure that everything is clean, remove dish towels, water and food bowls for family pets, trash cans and clean off all the magnets and pictures off your refrigerator. 

Wash your windows

The windows are the eyes to your home's soul … or something like that, so clean your windows! It not only helps your home sparkle but clean windows lets in more light to help make your photos pop

Make the bed

Your mother was right – make your bed! Beautifully made beds helps to make your home look more inviting and relaxing. Try your best to make your home look like a beautiful bed and breakfast that you would pay top dollar to stay out.

Open window blinds

Buyers are attracted to homes that look light and bright so show off your home and let buyers see how light and bright your home is. Yes, this means you also need to clean your window blinds but again I promise you will reep the benefits.

Pay attention to your light bulbs

I know I have a hint of OCD, but nothing drives me crazier than burned out light bulbs and light bulb warmth. Please make sure your light bulbs are working and have the same incandescence so that light fixtures have a consistent hue.

Clean up the bathrooms

This should be a no-brainer, but your bathrooms should be deep-cleaned and glowing. Make sure to remove your day-to-day products out of the shower and/or tub as well as the counter space. I prefer for bathrooms to look as much like a spa as possible. The cleaner and brighter the bathroom looks the better and hey it make the buyer want to buy your house and take a dip in your tub if you do a really great job.

Take it to the wall

Some of you may get that line from Little John, but if you didn't that's ok. Let's talk about your walls. You may want to put a fresh coat of paint on the walls to cover up any dings or bad paint touch-ups from the past, or maybe you just need a new color to help make your room feel a bit more updated.
Other than paint, take a really good look at your walls and what's hanging on them. Are the walls generally free of clutter and photos? If they are, great. If they aren't I would take the same rule of 50% and take down photos and art that may look busy to the eye in photos. You can always store them for now and put them up in the new place!
These are just some of my favorite tips. I would be happy to talk with you about what else you can do to make your home shine to as many buyers as possible.