Happy GrubHubThanksgiving!
Thanksgiving looks different this year. As Covid-19 cases grow in Colorado, more Family & Friendsgiving meals are moved to the virtual landscape. Whether you're looking for dine-in options or take-out options I've got you covered!
Take-Out Options
First up, Toro Denver. It's the newest restaurant opening in Cherry Creek taking over the huge indoor/outdoor dining space inside the JW Marriott at 150 Clayton Lane. The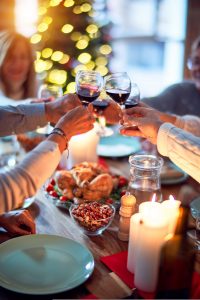 menu has a classic latin twist and frankly sounds amazing if you're up for an interesting twist on the traditional turkey dinner. Check out the menu here.   If you ask me, I'm down for the butternut squash soup and the yellow sweet corn pie.
An old favorite, with a new twist due to new ownership is Humboldt Kitchen & Bar. While there menu is a bit limited, I do love their option for couples and family packages. I'm not exactly sure how many sides your can choose … heck I will take them all! Check out there menu here. I'm most excited about the cheddar mashed potatoes.
The one I'm most excited about is The Bindery which has always had a soft spot in my heart. My choice is #2 which is a bit more traditional but don't forget to overlook the wine list! In terms of dessert, I'm also pretty darn jazzed about the Apple Cranberry Pie option. It's two of my favorites in a new flavor combo I can't wait to try! Check out the menu here.
Want a hole new spin on Thanksgiving dinner? Try Le Bilboquet with offers a French twist of the traditional turkey dinner. Take a look at Le Bilboquet's menu here. I know it's not very Thanksgiving, but I would be in for the jump lump crab cake or even my go-to the cajun chicken salad.
Chook Chicken is offering a Thanksgiving Feast for Four which includes a whole chicken, three sides, large salad and either pecan or pumpkin pie. Don' this their other time savers, including 12 ounces of gray and Hot Toddies! Even better? The menu is available from the November 23rd through the 27th.
Dine-In Options
Another favorite Quality Italian is offering a full a la carte menu along with a special entry of roasted turkey with all the fixings! Check out the menu here. Although I have to say if I were going to one of my favorite comfort Italian in town I would probably opt for the Parmesan chicken pizza. Yes, you heard me right and it's absolutely worth it. It's also some fo the best leftovers around … better than traditional pizza.
Ruth's Chris will be open, meaning you can also have a Thanksgiving steak. I've never done it, but I love the idea! Check out their menu here.
Last, but certainly not least visit Ellyngton's at the Brown Palace Hotel. They are open for brunch from 10am to 3pm with live jazz throughout the seating. Reservations are required. The site and menu were down, but take a look at everything the Brown has to offer here.