Congress Park is one of my favorite Denver neighborhoods
Let's dive in and fall in love with Congress Park!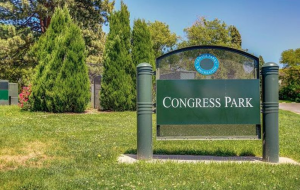 Congress Park has blossomed into one of Denver's most sought after urban neighborhoods. And there's a reason for it! The neighborhood, originally known as Capital Heights, was known as a streetcar suburb before it was incorporated into Denver in 1889. Additionally, Congress Park is home to many historic builds, including Denver's first farm house.
So where is Congress Park? My favorite neighborhood includes a sizable section of the E. 7th Avenue Parkway (swoon!) which is Denver's largest historic district (and realtor heaven). While it's only two blocks wide for most of the length, the district runs from Logan Street to Colorado Boulevard from East. Congress Park is bordered by Colfax Avenue to the North, 6th Avenue to the South, Colorado Boulevard to the East, and York Street to the West.
We're talking Denver Squares, Bungalows, Victorians…. some of the most beautiful homes you'll ever see all living in this neighborhood. Not only do I love sight seeing in CP, but this neighborhood has an unparalleled feeling of "home." I'm in love with CP summers, walking down to Sweet Cooie's to get a scoop of ice cream with friends or stopping into Wild Flowers to ogle their collection of finely curated plants and gifts. Not to mention the summer concert series at the Denver Botanic Gardens (I always come out with a post about this awesome event, so stay tuned as we get closer to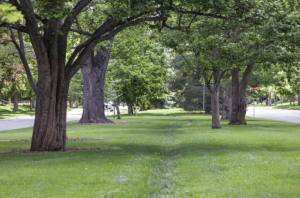 summer!).
Let's Talk Living
There are some fabulous restaurants in CP. During the winter months, the snow can start to pile up in Denver! If you live in the CP neighborhood, you and the fam can walk to Blue Pan Pizza, Shells and Sauce, Tag Burger Bar (my mouth is already watering), and Under the Umbrella Café. Sienna Wine Bar is the BEST and has a phenomenal selection of wines (with a to die for happy hour).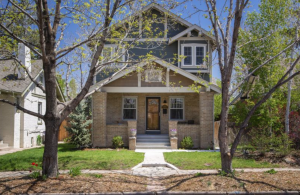 I've done a few blog posts featuring some awesome shops along 6th avenue, just at the border of Congress Park and Cherry Creek! Be sure to check out Rosy Rings, Homebody, and Sol for your shopping needs if you live in CP.
Congress Park is close to everything…. which is one of the many reasons I'm in LOVE with it. You can be downtown in 5 minutes, in Cherry Creek in 2, visiting Wash Park in 10…. and the recent 9&Co Development, which is getting so close to being complete, is accessible in under 4. Additionally, the number 10 bus runs right through the neighborhood if you don't feel like driving. Swoon!
Buying in CP
I recommend CP to many of my clients who are looking to live in Central Denver. It has absolutely everything. I'm a bit biased because I grew up in this neighborhood, went to school here, and also live here now, but I promise there's a reason for my feelings about it!
Let's talk buying a home here: As I mentioned earlier, Congress Park has many bungalows, Denver squares, and Victorians. This means that homes come in a variety of price ranges. If you're moving to Denver or looking to move elsewhere within Denver, I would love to talk with you more about Congress Park!
My focus neighborhoods are Congress Park, Washington Park, Cherry Creek North, Country Club, Crestmoor, and Hilltop. If you have questions about living and thriving in Denver, contact me!  Let's grab a coffee at one of Denver's many popular local coffee houses and chat about this next step!