It's A New Year, Which Means It's Time to Think About the Home Maintenance We've Been Putting Off!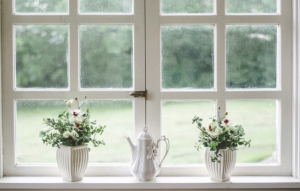 New Year's Resolutions: ahhh the temptation to forget about the ones I've made for this year is lingering! BUT, I've made a goal to make sure that this year is different. 2019 is going to be all about achieving the goals I set for myself, which includes home maintenance and interior design! I'm sure you read all about the mold that plagued my bathroom in 2018. In 2019, I plan on having that bathroom finished and decorated to the nines!
Here is my list of New Year's Resolutions for your home. I know I'll be marking many of these off my list–which ones will you?
Budget
Budgeting for improvement is a crucial first step, and will make the renovations process significantly easier. Create a yearly budget for home improvements that you know you can stick by. Realistically, homes need maintenance every few years (maybe a new kitchen appliance that broke, etc.). Budgeting will help you be prepared when the time comes!
De-Clutter
Okay, I know this one always comes up and you might be saying to yourself "I'm already constantly de-cluttering!" But, what about the front hall closet that seems to get fuller and fuller each year? Or the basement that is home to piles of things that you want to take to Goodwill but haven't yet? It's time to really de-clutter your space. Storage is key: treat yourself to a quick trip the Container Store or visit an antique shop and find a cool piece to help organize your space. It's time!
DIY
DIY: Do It Yourself! It's time to exercise those skills. It's less expensive and can be a great way to ensure everything is exactly how you like it. In addition, it's a great way to get some exercise (if that's your personal NY Resolution!).
Get Involved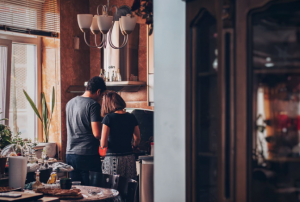 Home maintenance means more than just the physical appearance of your home. If you live in a community, set up a meeting to talk about what you can do to improve it. It's a great chance to get to know your neighbors and make sure you're on the same page. In addition, you might make a new friend or two!
Energy Use
It's 2019, which means it might be time to cut back on energy use. This might sound daunting, but I'm here to tell you it's very doable. A fantastic place to start is with your HVAC!! These guys are energy suckers, so taking time to understand their energy intake will be helpful. Sealing your ductwork can help your heating and cooling system (ands you won't believe the change in efficiency!!).
Water Usage 
Did you know the average home uses about 450 gallons of water each day? I really want you to sit and think about that. Additionally, that is expensive, and there are many ways to be cutting down that water bill. EPA-certified water sense products are great. Additionally, you'll see energy savings (because you won't be paying to heat as much water). In addition, low-flow shower heads and toilets will make your wallet and the environment a little happier.
Do you have questions about how to take care of your home this year? Contact me! I love to help advise on the best way to take care of your home. I wish you a happy, healthy, and prosperous 2019! Happy New year!