Get Out of Town Feature: Aspen
Friends, there's so much to say about Aspen … it's hard to know where to even start! What's known around the world as one of the most spectacular ski towns, Aspen offers so much more than just your yearly outdoor recreation spot. When I think Aspen, I think gorgeous views, award winning restaurants, fantastic shopping, and luxur
y lodging. I recently visited Aspen and wanted to share some of my top Aspen picks with you!
Lodging
Aspen has some of the world's best lodging options… which makes it very hard to decide where to stay! These are some of my favorite spots to help narrow down your search;
The St. Regis: Marcuccio and Emma had a blast at this ultra dog friendly hotel complete with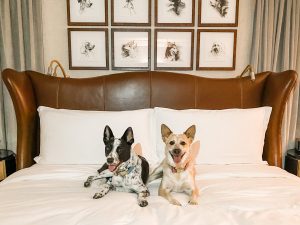 resident pup Kitty (follow on IG @kittythebernese). With nightly champagne sabering display, to die for pool and even better rooms this is by far my favorite spot!
The Little Nell: This hotel is absolutely gorgeous! The pool area
is perhaps my favorite with the living wall backdrop to the pool and stone pathway. Located at the base of the mountain, they are very dog friendly and is hands down THE SPOT to watch the fireworks on the 4th of July outside at Ajax Tavern.
Hotel Aspen: This is a diamond in the rough! I've stayed here a number of times on girl's weekends and bachelorette parties. It's a bit more friendly on the wallet than The St. Regis, Little Nell or The Hotel Jerome located just down the street. The pool area is nice and private and it's an easy walk to everything!
Dining
The fabulous dining experience Aspen offers is one of many reasons this mountain town is actually a world class destination. Here are some of my favorite spots and must tries!
Matsuhisa: Dine with the world's best Sushi chef. The dining room is nestled below ground offers a romantic and cozy feel. You might even see a star sighting here! Years ago I had dinner next to Robert Wagner. While we still don't know what happened to Natalie Wood, I grew up watching Heart to Heart, so it was a thrill.
Element 47: The wine list is amazing and it's by far a favorite for a special night out. Located inside The Little Nell Hotel – yes, the last time I was there I spent some time at the pool with Brian Grazer the producer and partner to Ron Howard … who I also grew up watching on The Andy Griffith Show and Happy Days … picking up a theme yet? Yes, I love TV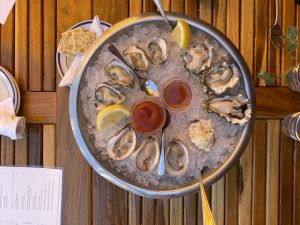 and Movies!!!
Clark's Oyster Bar: This is a new favorite. I love sitting outside with the pups during happy
hour and enjoying oysters and some wine. The ambiance is top notch and inspires me to schedule a trip to the east coast. Oh and do yourself a favor and ordering the Lobster Roll!  A friend turned me onto it and now I don't think I could visit without ordering it!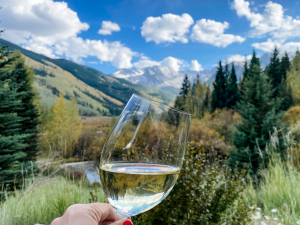 Pine Creek Cookhouse: A new one to my favorite list as I was just turned onto it by a friend. The views are unbelievable! Just outside of Aspen, the drive in is to die for and valley is just breathtaking. Make sure to grab a reservation and yes, they are dog friendly and have a special patio for our furry friends to join in. They also offer picnic options to explore the grounds on your own for $100.
Activities
While skiing is the obvious option, Aspen offers so much more to enjoy! Let's dive into some of Aspen's best activities (both indoor and outdoor!)
Maroon Bells: if you've ever googled a picture of Colorado, one of the first things that usually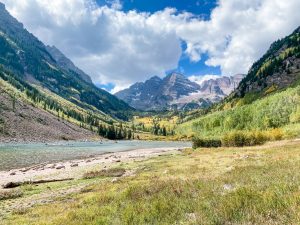 pops up is a picture of Maroon Bells. The most gorgeous place on the planet I'm pretty sure … and both locals and tourists agree! Due to the popularity of the spot, visitor have to pick up a bus in town to shuttle them to the park. You can either visit Maroon Bells and spend time down by the lake and take in the beauty which is also where all the photos I mentioned are taken. Or, you can be a bit more adventurous and hike the mountain.
Roaring Fork River: Just outside of town you can jump onto the water with either your paddle board or kayak and enjoy the calm waters. More of a thrill seeker? There are plenty of outfits that can take you a white water rafting adventure – which is absolutely one of the most fun things to do.
The John Denver Sanctuary: Right in the heart of Aspen! It's a must visit spot because of it's beauty and also to pay respects to the one and only John Denver.