Are you looking for something fun and different to do this weekend in Denver?
From Friday, April 12th through Sunday, April 14th  the World Wide Antique & Vintage Show will be held at the Denver Mart.  Hours are 10a.m.-6p.m. on Friday and Saturday & 11a.m.-5p.m on Sunday.
The World Wide Antique & Vintage Show boasts a 50 plus year tradition as the "Premier" Antique Show in the Colorado Market. Up to 100 local and national antique dealers travel to Denver and bring their best to this annual show series.
Sounds like fun! Maybe I'll see you there.
MORE INFO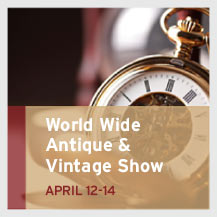 Gretchen Rosenberg has been a residential real estate broker in Denver for 17 years and she loves antiques and classic homes equally with cool contemporary lofts.  Check out homes for sale in Denver at Gretchen's web site, GretchensDenver.com.