With more flexibility while working from home, renting may be the latest interior design trend to help you ease into your next big move.
While we adapt to our new normal, more options are opening up as flexibility sits at the forefront. The extended vacation has become more common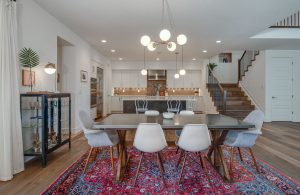 place as we adapt to taking Zoom meetings from anywhere – including the beach. If you have been contemplating a move, what better way to determine if your dream City will work for you. You can live the lifestyle for awhile to determine if a move would suite you. Even better, you can try the latest design trend of renting furniture and art before buying.
As we experience more flexibility in our new routines, new options are available to us all. Just look at how we've automated our lives to add the ease of living in our homes. We have automated bill pay, smart homes that learn our behaviors and can be programed from afar. In this bold new world of ours new options and ways of living are opening up to us.
Yes, you head that right. There is a silver lining to 2020!
I have a handful of my own clients who relocated out of state. They originally wanted to spend time with family at the beginning of the Pandemic, but they are now contemplating a permanent move. While they are away, they've also opened their homes up for extended rentals.  On the flip side, I know people who are looking to relocate be near family and friends for the holidays. In fact, I have one family who has decided they want to head out of New York City altogether. They have opted to rent in Denver through the beginning of the year to see if a permanent move to Denver would suite their family.
With a new sense of freedom that you can do your job from anywhere, why not look at putting roots down somewhere else? If this year has taught us anything it's that life is short and upredicable.
Saying that, the idea of renting furniture doesn't sound so crazy after all now does it?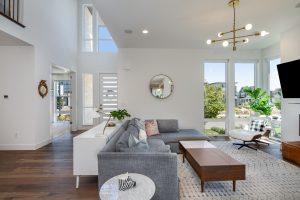 Ok, to be clear I'm not talking about Rent-A-Center type rentals. I'm talking high-end furniture rentals that's sustainably made. I have to admit if I was looking at making a move the idea of renting would be an intriguing idea. It's a great way to experiment with different design styles and heck you don't have to commit to anything! Don't like the sofa? Great, swap it out for something you do like! It's also more sustainable than purchasing a brand new set of furniture with a design style that may be outdated soon.
Does this sound familiar at all? I think our friends at Get The Gallery are extremely forward thinking and were way ahead of this curve. As a refresher, Get The Gallery is a local Denver owned company that rents beautiful works of art on a monthly basis with the ability to rent as much, or as little as you want. It's not only a great way to rotate art and have a fresh perspective, but if you are looking at relocating what better way to furnish your new space than with new artwork?
There are a few companies offering just this type of product Feather & Furnishr and I'm sure there are many more! What do you think? Would you make the leap and try this new trend? I personally love it. I'm dreaming out an extended stay to Charleston, South Carolina with new furniture and art that's a departure from what I have in my own home.