Large-Scale Art Installations Are Trending
Is Large Scale Art Your Aesthetic?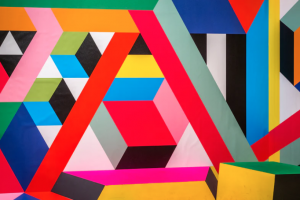 As many of my readers know, I am in love with interior design almost as much as I love Real Estate! I've noticed some trends in the design world recently: some I love and some I don't. But one of the biggest (no pun intended) interior design trends I've seen recently is big, large-scale art installations. Maybe it's related to the increased number of open floor plans, or maybe design aesthetics are just drastically changing, but I've seen large pieces of art almost everywhere I go!
Both the St. Paul Collection in Cherry Creek North and the Lakehouse in the Highlands are homes to large scale art installations. When you walk into the multi-family developments, it's one of the first things you notice. This form of art is eye-catching and elegant, and in many cases locally curated. Large scale art sets apart a basic entry way from a stellar one, a space potential buyers or renters will easily remember. Locally curated? Even better, as it shows your interest in the wider local community. Let's support our local artists!
Art with Ease
One of the best parts about large-scale art is the way you can easily fill up a space begging for a pop of color. While you may not be the one installing the piece, choosing one large-scale piece may feel less daunting then, let's say, creating a gallery wall of some kind (which I also love, don't get me wrong!). Large-scale pieces can be a one stop shop for filling a space, and artists are seeing this trend with millennials in particular who may be looking for a bit more bang for their buck with a large installation that fills the space.
Custom large-scale art installations are also on the up and up. Buyers are purchasing homes, realizing they have large spaces to fill, and are then hiring artists to create custom pieces. (PS! Did I tell you one of my favorite art curators is Get the Gallery?). It's a great way to customize your space and help things feel like home.
As many of you know, I recently spoke with Austin Zucchini-Fowler, local Denver artist who is responsible for the spectacular paintings of our healthcare heroes around the city. One of my favorite things about his murals is they provide inspiration and strength to our community. Now, imagine if you had a custom large-scale mural to admire in your home every day! This is the reality for many home owners who are flocking to this style of art in their homes.
Personal Murals at Home
Large scale-art installations are also popular in outdoor spaces. In fact, I have seen more and more large scale murals on garages throughout town either along the alley way or along a side that can be enjoyed in a backyard. Whatever your take on large scale installations may be, it looks like they are here to stay especially with the take over of large scale murals throughout town. Want to check out more? Take an afternoon to walk through RiNo and enjoy the sights and sounds of the amazing artists who have graced the sides of numerous buildings throughout.
Have questions about buying in Denver? Or want to talk about interior design? Contact me! I would love to work with you on buying/selling your home. For my latest market stats post, click here.