Street Murals: Artist Austin Zucchini-Fowler
The Story Behind the Amazing Murals Popping Up Around Denver During COVID-19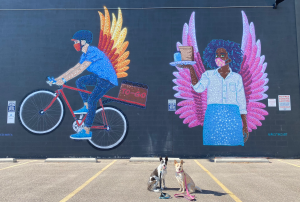 Some amazing murals are popping up around the City. You've probably seen the mural of a nurse with a mask and red boxing gloves trending across Denver social media. Well, I recently had the opportunity to talk with local Denver artist Austin Zucchini-Fowler, creator of this spectacular mural and many others that are popping up around the city! RiNo and Cherry Creek are a few of the neighborhoods adorned by his work, so if you've haven't had the opportunity to visit these neighborhoods recently, I highly recommend you do!
Austin is a Denver street artist who aims to spread gratitude through his work. He's painted various murals across the city dedicated to the heroes of this pandemic, including nurses, first responders, hospitality heroes, teachers, and more.
Map of his murals:
Wondering where to see Austin's murals? See below for cross streets and further info!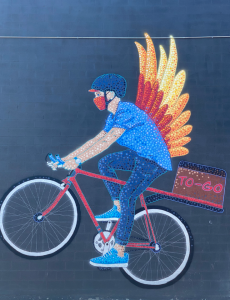 First Responders: Military, Police, and Firefighters
Teacher Mural
Hospitality Heroes
Denver Central Market (alley), 26th and Larimer
Female Healthcare Hero
Male Healthcare Hero
Construction Hero
Curbside Servers
Austin is working on more murals to add to his walls of gratitude! Additionally, he sells prints and stickers on his website. Check them out! His work is truly stunning and this is a great way to support the work of a local artist.
The Process
Austin's process is as follow: he starts by drawing out the image he wants to create. Then, he projects it onto the wall and traces it out. For the murals at Bigsby's Folly, Austin's murals are 3 dimensional because of the texture of the surfaces. The murals in Cherry Creek have been smoother to paint on. However, Austin told me that it rained when he was painting the curbside server mural and it washed everything away. In other words, he free handed that entire mural which is AMAZING!! If you can support his work further, please consider doing so!
Vino & Art
Want to support Austin further? His art has been featured on the wine labels at Bigsby's Folly which is awesome and of course he gets a portion of the proceeds. You can even collect all of his pieces of art on wine bottles, or heck they're a wonderful gift especially for our local heroes; first responders, teachers, health workers. Speaking of local hers did you know that Bigsby's Folly is giving free mason jars of their wine, with an ID, to our local heroes! If I didn't love them already, I certainly love them more. Oh and if you're making a trip down there try their froze for a little cool down.