I'm Often Running Around Denver Looking for Quick Spots to Grab n' Go in Between Appointments
I often find myself running around Denver in between appointments and meetings. When I'm not stopping to gaze at the breathtaking Rocky Mountains, I'm often looking for great spots I can grab a quick bite to eat. We all have busy schedules, and finding time to take care of our needs is sometimes difficult, but important! This post is dedicated to some of the best places to eat on the go in the Mile High City. I know you'll enjoy!
Chop Shop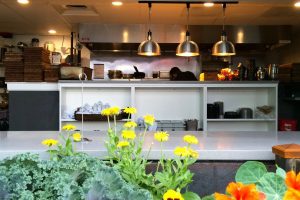 Chop Shop Casual Urban Eatery is one of Denver's premier quick serve restaurants. They have two conveniently located restaurants in Lowry and East Colfax. They believe we deserve better, healthier options when we're on the go. Chop Shop is all about sustainability, promising to make the smallest possible footprint on our planet. You can find the scrumptious East Colfax menu here and Lowry's delectable menu here. I hope you enjoy!
Ajinoya Ramen

At Ajinoya Ramen, they believe good times deserve great food! Their menu consists of everything Ramen, Poke, Donburi, and beyond. The friendly staff make this quant little restaurant on Colorado Boulevard a joy to visit. There's something on the menu for everyone. Food preparation is fast, so whether you need an order to go or have a time to sit and relax, they will make sure you're taken care of quickly and efficiently. Stop on by!
Maria Empanda

Maria Empanda serves up the goods! Their delicious empanadas are baked fresh daily. They believe the love put into the making of their food can be tasted. They have three wonderful locations scattered around the city where you can stop in, grab a few ready to eat empanadas, and go! Maria Empanada sells their food to various coffee shops and businesses around the city. You can find their three main locations and other stores here. Delicious!
Denver Central Market

The Denver Central Market is a gourmet marketplace, home to many local and sustainable vendors. They are the perfect spot for a quick lunch from any of their businesses. Denver Central Market offers gourmet wood-fired pizza, soups, salads, sandwiches, and even dessert for those with a sweet tooth! They have open seating for your convenience. You can find their complete list of vendors here. I know you'll enjoy!
Coffee shops are wonderful places to hunker down with a sweet treat to get some work done. Are you looking for a great coffee shop in your neighborhood? Click here to see some of my favorite coffee houses in Denver!
Running from meeting to meeting can be stressful, but I hope this post helps you find some great places to eat as you juggle your busy schedule! Are you looking to buy or sell? Let me help you relieve some stress! Visit my contact form and libbysellsdenver.com to get in touch with me. I can't wait to hear from you!