Fall Into October Market Stats!
What's New in Denver's Real Estate Market this Season?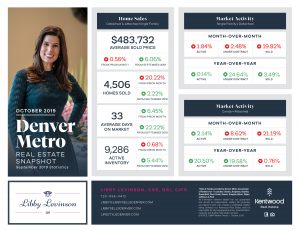 Denver's Real Estate season is typically March-September.  Traditionally the market is the quietest from late November through mid January with October typically starting the slow down with February ramping back up for the selling season.
So what does this mean for this October? The market was moving so fast, too fast for too long if you ask me. But, now we're seeing a slow down which means we're seeing a healthier market for both buyers and sellers. However, it's important to remember that although there's been a change … we are still NOT in a buyer's market! Sellers are still in control of the market. But don't worry! There's still room in this market place for buyers… so don't be too spooked if you're thinking about buying. In fact, just say yes!
So… what changes HAVE we seen this month?
Number of price reductions has gone up
Spread between list price and sold price has widened
The average days on market increased 7% month over month
Year to date, there was an increase in days on the market from 24 days to 30 days
What does this mean? Buyers are having the opportunity to negotiate on price in our current market. Additionally, the current life cycle of a listing is about 69 days; 32 days active on MLS and 37 days UC.  Fun fact for sellers: Did you know some sellers are accepting contingent offers? This means Realtors are writing offers for their buyers who have homes to sell, This was unheard of just a few months ago so this is an important one to note for those sellers who didn't want to take the gamble of putting their home on the market and losing out on their dream home.
If you're like me, walking through Cheesman Park during fall is magical. And I bet you didn't know that gorgeous apartment building at 1177 Race Street sold in September for $30 million. The last time this building sold was 42 years ago in 1977. Denver was a different city then, and I like to reminisce!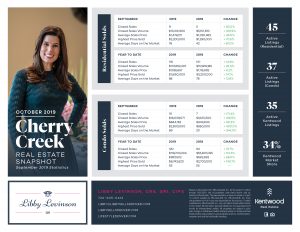 So, let's talk about rent prices in the Denver Metro Area. If you need another reason to buy, this is it! Median rent prices are over $1,400. That is a lot of money to be spending on rent each month. This is a 4.3% increase since September of 2017. This is the highest median rent Denver has ever seen…. so let's talk about buying and avoiding that pesky rent and start building for your future.
Quick Stats
Average active listings for September month end is 16,500 (1985-2018).
Record-high September was 2006 with 31,450 listings and 2015 represented the record-low with 7,516 listings. September 2019 ended with 9,286 active listings.
The 20-year average change in active listings from August to September is .42% decrease. 2019 represents a decrease of .68%.
Let's talking about buying! I'm happy to talk with you about what it means to take these big steps in Denver's market. Contact me!