Rockies Opening Day
Opening Day for the
Colorado Rockies
is the official kick-off to Spring in Denver, as well a city-wide holiday. If you're new to Denver, and happened to be downtown last Friday, you may have been rather confused by the lack of parking spaces, surge pricing for Uber fares and the sea of purple heading towards Coors Field. If you weren't downtown, did you notice your calls weren't being returned or email responses were taking a bit longer?
The answer is easy, the entire city shuts down to celebrate not only the Rockies but the return of warm weather and roof-top patios. Oh, and did I mention the population of LoDo explodes? Opening day for the Rockies is generally the one day of the year that the stadium is sold out and thousands more flock to Lodo so they can take part in all the festivities and sunny skies.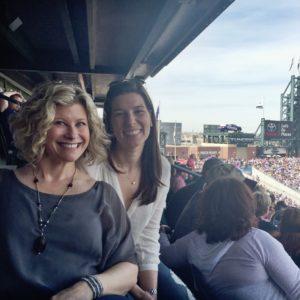 This year was Gretchen's first year taking part in Opening Day, so I was more than happy to show her the insider secretes along with a few other co-workers. We started off by taking an Uber downtown to avoid the headache of parking. The Uber driver dropped us off on
16th Street Mall
, where we grabbed a quick lunch and joined the throngs of people making their way to the stadium.
We bypassed the main gate to enter along the third base line where the lines are significantly shorter. Before we knew it, we were safely in our club level seats just in time to see the first pitch. One of the best features of Coors Field is that all of the seats are angled to face home base.
The newest additions to the stadium, which were introduced last year, are the two roof-top bars. Around the third inning we made the pilgrimage to the Rio Grande overlooking the outfield to try out their frozen margaritas. Not surprisingly the line was a mile long and at that point the frozen margaritas weren't so frozen, but hey it's all an experience right?
After soaking up some rays we headed back to our seats and settled back in to watch the rest of the game. We enjoyed some peanuts, a hot dog and sang as loud as we could during the 7th inning stretch. The only things we missed was a photo op with Dinger, the mascot for the Rockies.
At the end of a long afternoon we made our way safely back to Cherry Creek to return some of those missed calls and respond to those emails. Overall I would say opening day was a huge success and that we might even see Gretchen back again next year.