Denver Real Estate Market Stats Are in For December
So, what's new in our market?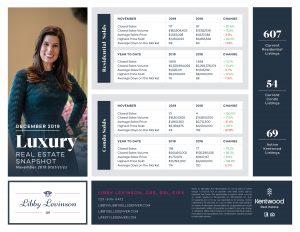 New listings in November were scarce. If you follow along with my blog, you can probably piece together what that means for buyers and sellers in our market. There was a 32% month over month reduction in new choices, which had an impact on the the number of active listings on the market. In addition, we saw fewer sales last month and closed sales were down almost 25% month over month. Homes going under contract also dropped, which indicates next month will also show a drop in U/Cs. Average days on the market and average sold price both increased in November. However, there's a bit of good news as sales were up year to date.
Saying all of that, sellers are still doing well in Denver's Real Estate Market! Seasonally, things tend to slow down this time of year. Cold temperatures and heavy snow tend to keep our market slower. But let me give you a few tips….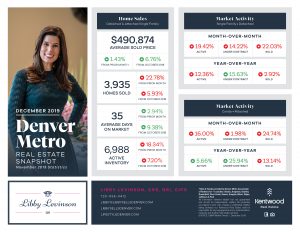 While you're already out holiday shopping, you might as well be out house shopping, too! I typically start getting calls January 2nd every year from folks ready to jump into the market. I don't know it it's the relief that the holidays or subsequent conversations with family over the holiday that a new home may be the big change for the New Year. Either way, I'm starting to get calls earlier than ever for both buyers and sellers gearing up for the 2020 Denver real estate market. So, if you're a buyer think of this market as Black Friday and start your shopping before the market thaws in February/March. Thinking of making a move in 2020? Give me a call. I'm a Denver native and happy to help you navigate the Denver market.
If you're thinking about selling, this is a great time of year to do it. The dream of homeownership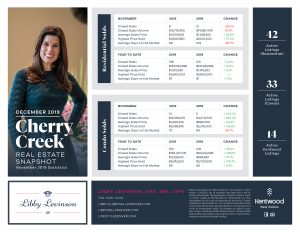 is fresh in people's minds during the holiday season (what better gift to yourself than a new home?!). Buyers are watching and ready! With low inventory it's even more important to have your had stand out. But if getting your home on the market this month is out of reach, start getting your home ready for early 2020! If you are contemplating a sale in 2020, give me a call. I have great resources to help you tackle all of your projects.
Quick Stats
The average number of active listings for November is 14,000 (1985-2018).
November had 6,988 active listings (compared to record-high 2006 with 27,530 and record-low 2017 with 5,131 active listings).
November 2019 had a much larger decrease of active listings than prior years (the average is 8.14%, whereas last month was 18%).
Did you know?
Did you know Denver is currently the most expensive city for commuting? This may or may not surprise you, but you might find it interesting to know that commuters in Denver spend an average of 31 minutes doing so. AND, they spend just over $9,000/year getting to work. Littleton is currently ranked as the best suburb in Colorado to commute to and from. Finding a home near work or in an area with easy access to public transportation is a huge plus for homebuyers these days. If you have questions about that, contact me!
New builds…. let's talk about a new treat for the new year! Most Denverites who are interested in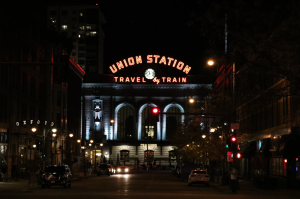 a new property are looking at Stapleton. They have the largest number of new construction permits of any other city (398 total). If you are interested in the Stapleton neighborhood, I would love to chat with you further! In fact, I just helped long-time clients of mine move into their dream home right before Thanksgiving!
Finally, Denver has some surprising new stats (or not so surprising). Colorado's population was 5,029,196 with 3,803,587 being over the age of 18. Since 2018, our population has risen to 5,695,564 with 4,430.329 being over the age of 18. So, what effects do you think this has had on the real estate market here? Send me a DM on Lifestyle_Denver to chat about it! If you're looking for a home in Denver of thinking about selling, contact me!