Let's Talk Paint For a Moment
My Take on The Importance of Paint in the Design Process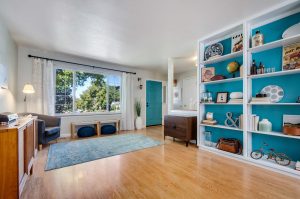 If you're like me, choosing paint colors can be a tedious but really FUN process. I have the same general approach of choosing paint colors like I do with hair cuts. It's valuable to take risks, but hey if you make a mistake hair grown back and you can always re- paint. After all, it's just paint which should also be our best friend in the design process.
The importance of paint is often overlooked in terms of color hue, quality and sheen. I promise you though that once those walls are finished, you'll be glad you took the time to find the perfect shade for you home.
Curb Appeal
Two words: curb appeal. Paint drastically increases curb appeal and design aesthetics. If you're thinking about buying or selling, you might want to consider adding a fresh coat to the exterior. Maybe your whole house needs new paint. Or, maybe it's time to swap out the trim color. I've seen amazing before and afters that would knock your socks off … now if only I could find them …
But, in seriousness if you have a Denver Victorian those are my absolute favorite! I'm so proud of homeowners that take chances and play with different palettes. I love to see a painted lady with a pop of color. And remember…. paint also has vital protective features for your home. Paint can help prevent water seeping through in the event of a leak, especially with wood.
Perhaps your curb appeal is spot on in terms of paint, but maybe the interior can be spruced up a bit. There is nothing like a fresh coat of paint to make a room feel new again. It is literally the cheapest thing you can do in a room to totally transfer it. Whether you want to stick with the same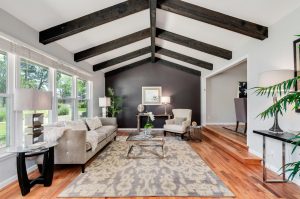 color, or take a risk your house and wallet for re-sale will thank you!
 Paint has a way of transforming a space and add personality instantly. The fresher the walls look, the  look, the better!
I want to highlight my favorite brand; I always recommend my clients use them because of the high quality and gorgeous color palettes they have available: Benjamin Moore.  If you go to their website, you can check out the most popular colors of the year and browse all of their colors. My favorite hack is to look at the code for Benjamin Moore in design magazines and Pinterest to get color inspiration. Note, the code always starts with  "BM" to denote "Benjamin Moore" with the color code just afterwards.
My favorite go-to color when I'm freshening a house up to sell is Metro Gray "BM 1459." It's a nice subtle gray with a slight undertone of gray. I will use this color in every room to make it quick, efficient and easy on the wallet generally. However, I also adore White Dove "BM OC-17" and Chantilly Lace "BM 2121-70" for bathrooms which was a great tip from one of my designer friends.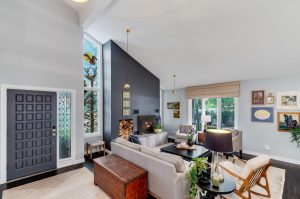 Never fear, if you need more insight Benjamin Moore also features the Pantone's Color of the Year, which is chosen every January. You can check out Pantone's 2019 choice here, and be sure to check back soon for some fun design ideas when the next color is announced.
Gold Standard
In short, Benjamin Moore is the Gold Standard for color, quality, durability in my book. I love perusing their website and getting ideas for upcoming projects. Check out their most recent color trends palate here to get started and see how these colors look in real time.
I also love Farrow and Ball. It is one of the top choices for designers and their most recent collaboration is with the National History Museum: Colour by Nature. Did you hear eco-friendly, water based paint? Because I sure did! Check out their paints and latest wallpaper collection and dive into the design of your dreams.
So, Where Do I Get Paint Locally?
Guiry's is my favorite place to get paint in Denver. They have a few locations around the Denver metro area, my favorite being on Leetsdale (right next to the Watering Bowl.… take the pups!). They open bright and early so you can get started on your paint project early in the day. They've been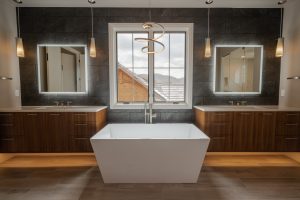 around for over a century, and there's a reason for that!
They offer fantastic customer service and they are always willing to answer questions. They are committed to the Denver community and offer free paint recycling which is such a time saver. The funniest thing when it comes to moving is that when clients of mine move into new homes they often inherit tons of old paint. This is especially overwhelming if they repaint the house before they move-in like I did. It then results in swimming in tons and tons of paint cans. So, believe me Guiry's may become your new best friend to offload these old paint cans in an eco-friendly manner.
Guiry's also has tons of art supplies and kiddo friendly art projects, so you can stop by with the little ones. Everyone is entertained!
In short, paint is FUN. It's a great way to add character to your space and spruce things up. And if you're thinking about buying or selling, I would love to walk you through the process and provide you with more info about getting your home ready for the market. Contact me here. I can't wait to meet with you!