Your Guide to the Best Denver Gifts for Everyone on Your List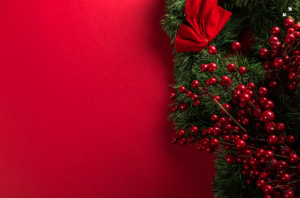 With 14 days left until Christmas I've curated the following list to help you check off everyone on your list. The following items are some of my all-time favorite gifts to give, treasured items in my home and things on my wish list. Santa, I've been really good this year and I think I should get some extra karma points for helping everyone else with their shopping lists. I'm not sure if that's how it actually works, but hey can't hurt right?

Diptyque Candles – I'm currently in a candle phase and can't seem to have enough candles in every room of my house. One of my favorites is the Dyptyque Baies candle. It has a light floral scent that always feels so clean and calming to me. I always have one in my guest bathroom or kitchen because it just warms up the space so nicely and makes ti feel so clean and fresh.

Bloom by Anushka Candles – My other go-to favorite candle is from Bloom by Anushka. They are my favorite spot for floral arrangements for myself and I give them to all of my clients whenever they buy or sell a home. While the single men typically get a different gift from me as they don't usually appreciate the
floral arrangements, I do think it's a nice touch to have something beautiful to look at during the chaos of moving. But, back to the candles … they come in these intricate hand etched bras cages so while they smell absolutely heavenly they are also beautiful. I will admit Additionally, I've started collecting them and keep them in little vignette around the house. Pro tip: when the candle goes out I re-use the votive and cage and burn a new candle in it but always make sure I have a fresh candle from Bloom so that I capitalize on the dreamy scent – this may also be why I've become a slight hoarder of these amazing candles.

Bloom by Anushka – Again, I can't say enough about their floral arrangements. They are seriously my favorite gift to give. But, this is a holiday gift guide so if floral arrangements don't do it for you I would highly suggest any of their home decor gifts. I'm a bit of a junky and often can't help but bring something home with me while picking up an arrangement for someone else. You know how it goes – a gift for you, a gift for me. Ha! Ok, but seriously, I adore the paintings hung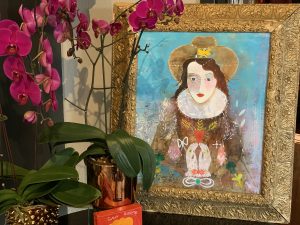 around the store by Mattie Berglund. I've had my eye on one for far too long and may just cave and buy it for myself. Mattie is an amazing artist who has other creations around the shop in addition to chairs, hats and even t-shirts!

The Moore Family Folk Art – Speaking of art, I adore everything this Colorado family comes up with. As a family, they create folk art from up cycled and repurposed materials such as old bottle caps and cans to create trout, bears and alligators to name a few. Alan and his oldest daughters Isabella and Emma currently sell their art in galleries and restaurants in Colorado and Florida, as well as nationally through their home studio near Denver. I discovered them at Show of Hands in Cherry Creek. I've ultimately purchased a few
pieces of work including commissioning a pice with a bee on it that's stunning.  Additionally, I've also taken one of the the Moore Family workshops for fun with a few girlfriends were we received one of one guidance from Alan Moore to help put together our own folk art

Two Pals & A Pup – I can't let this list go by without including the pups especially with my two new puppies at home. My go-to store for them recently has been Two Pals & A Pup collars, toys and treats have become my go-to for my two fur-babies. I personally love Up Country collars and leashes as well as the West Paw designed toys. They're as indestructible as Kong toys but a nice additional to the normal Kong line-up.
Dior Exhibit Tickets- Dior, From Paris to the World is the Denver Art Museum's latest traveling exhibit! I went a few weeks ago, and I guarantee you know a large group of people who would love to go! The designs were fantastic, and I left daydreaming about the all the amazing dresses I saw and where I would wear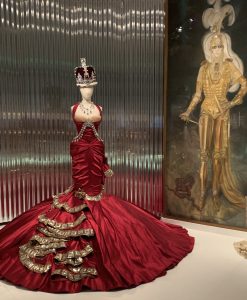 them! It's a chronological presentation that shares Dior's History. I highly recommend you see it, and even better, give tickets as a gift to the people you love!
Denver Passport- Denver Passport offers 2-for-1 drinks at 64 of Denver's best restaurants and bars! In addition, they say, "Each page of this curated guide offers a great reason to brave the cold to meet a friend for a drink." You can find all participating locations here. It's the perfect excuse to get out and #goexploredenver this winter!
Do you have questions about my 2018 Holiday Gift Guide, Living the Denver Lifestyle, or Denver Real Estate? Contact me! I look forward to sharing my knowledge with you! Additionally, be sure to keep an eye out for Part II of my 2018 Gift Guide!