Making the Most of a Small Garden Space
Tips and Tricks to make Your Garden Dreams Come True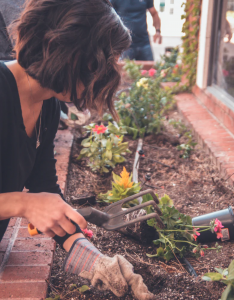 Let's talk about a small garden space. A few weeks ago, I posted about the Denver Botanic Gardens yearly plant sale (gone virtual!!). If you were able to snag some awesome plants from this event, first of all, be sure to tag me in your photos on instagram or use #goexploredenver. Second of all, you might be wondering "where do I put all these beauties I bought?" Ordering online is fun, but sometimes we can get a little carried away with how much we're getting. We may not realize just how much we bought and how little space we have for it.
If this is a problem you're finding yourself having … there are solutions! Small gardens can be magical. There's something about a small space that really makes you feel like you're enveloped in plants. But it can be hard to know just how to create this space when your garden area is tiny. Here are some tips and tricks to help you get the garden of your dreams, no matter the size!
Looking UP!
When you have a small garden space, it's best to go vertical, not horizontal. Helping guide the eyes upward can make your space feel bigger and more luscious. This is a great opportunity to plant more trees or add metal structures to the space. I've seen some beautiful vertical plant walls recently that I absolutely love (and they can also provide privacy). Tall plants are another great way to achieve this look.
This is also a great project for those of you that are continuing to stay at home and are craving a project! Check out my blog post on home projects to do while staying at home for more inspiration.
Pots and Containers Galore
I love buying pots for plants. While that might seem like a quirky thing to love, pots add so much color and fun to any space. Here are some of my favorite places to buy pots in Denver:
Pots allow for controlled chaos. It gives each plant an individual space to grow without crowding your area.  You can also place pots on a vertical plant wall to keep the vertical space growing! I'm itching to finish my potted herb garden in my yard!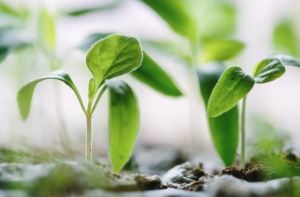 PS: Monochromatic colors help make a space feel bigger, so add those wherever you can!
Large Leaf Plants
Large leaf plants! One of my favorite ways to decorate! These guys are so beautiful and make you feel like you're hanging out in your own little jungle. Large leaf plants tend to be easy to care for as well, so there's no added stress or maintenance. Another great feature of large leaf plants is the added shade and privacy they can provide. These guys are great, and offer so much green to any garden.
My favorites: elephant ears and ginger lily plants
Vegetable Garden
Did you know you can also grow vegetables in pots? This is a great way to continue to grow veggies even if you don't have excess space for growing. You can also make small plant boxes and get soil (City Floral is a great spot to do so!) to put inside. Just be sure to note that if you're using pots and containers, these plants will need more water to get them growing.
Have questions about living in the Denver metro area and beyond? Contact me!  I look forward to answering your questions about this beautiful state!