Denver Botanic Gardens Plant Sale
The DBG is Changing the Way They're Doing Their Yearly Plant Sale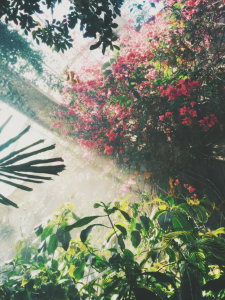 The Denver Botanic Garden's yearly plant sale is one of my favorite local events! I've been dying to get outside in my garden this year and was thrilled to see the annual sale is still on, albeit a bit different than in the past. This may have been the best news I've heard all week because my garden needs a makeover and I'm dying to get outside (and you can see more home makeover ideas here). I was recently watching Pride and Prejudice, the BBC version is my all time favorite movie for those of you keeping tabs, and was inspired by that beautiful garden. I may not have a huge lake for Mr. Darcy to jump into, but I do have a water feature that I'm very much looking forward to finishing this year! While all of our gardens probably won't look just like the Pride and Prejudice garden this year, the DBG plant sale can help us plant the seeds, or bulbs, or roots for our dream gardens.
What You Need to Know
Typically, the plant sale is great event. You drive to the gardens, park, walk inside, and find yourself dazzled by all the stunning plants you can buy. And yes, my eyes are always much bigger than my wagon (pro tip for next year: bring your own wagon – it will make life so much easier). However, this year, things are going to be a bit different. However, I will take what we can get, as I wasn't sure if the plant sale would even happen this year.
The DBG plant sale is on its 70th year. Can you believe that? Not only can you buy beautiful plants, but you can also be a part of some awesome Denver history while participating. This year: be a part of that history … online.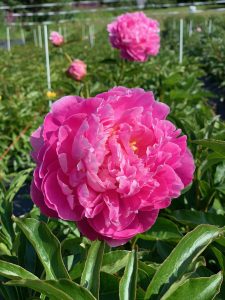 The Denver Botanic Gardens will be offering a limited selection of plants for drive-thru pickup. You'll be able to peruse their plant selections online before purchasing.
Since there's a limited selection of plants to choose from, you will definitely want to take advantage of their pre-sale access. Pre-sale access is open to both members and non-members starting April 27th for $25. You can purchase your early access ticket now through the 24th of April (Thursday) – purchase your ticket here. This is a great opportunity to get a whole extra day of plant shopping before anyone else can snag what you want ; ) Plant shopping is a sport, so get your game face on and go in with a plan!
DBC Member Info
If you're a member, you get access to the sale April 28th through May 1st. Make sure your membership is up to date prior to the 28th to take advantage of early access!
Picking-up Your Plants
In adherence to social distancing, the DBG is offering options for collecting your plants. Orders can be picked up via drive-thru from May 6th-9th. This will occur on the top deck parking structure. Stay in your car! Employees will load your plants into the back of your car to ensure social distancing rules are complied with.
Too excited to get your plants? Me too. But I've been perusing their catalogue for days so I can plan exactly what I want to get to make my Pride and Prejudice garden dreams come true. Sigh!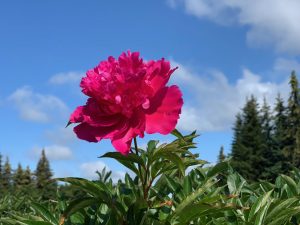 PS: you'll receive an email with your designated pickup time once you've purchased your plants online.
What Can you Get?
Despite the selected offerings of plants, there are still so many different types you can get, including:
Aquatics
Fruits, Berries, Vegetables
Container Garden in Bags
Herbs
Houseplants
Rock Alpine
Seeds
Specialty Succulents
Summer Bulbs
Oof. Just typing those out made me so excited to get my hands in my garden in a few weeks! Reminder that it's advisable to wait to put any new plants into the ground until after Mother's Day, which is May 10th this year. Denver notoriously receives a cold snap, or even snow right up until the holiday. I know it's hard to wait, but you will thank me.
Part of the reason I'm so excited for the plant sale is because it feels like a sense of normalcy returning… this is one of my favorite events and I was so excited to hear it wasn't canceled. Having the stay at home blues? Check out my list of how Denver is adapting and offering for its citizens to keep us safe and healthy during this stressful time.
Have questions about living and thriving in Denver? Contact me! I would love to share my knowledge of this amazing city with you. <3