Easy Pumpkin Recipes for the Winter Months
I absolutely love pumpkin. Each fall, there is never a shortage of pumpkin flavored/baked items in my kitchen. My dog loves pumpkin, my family loves pumpkin….and so over the years I've curated some of the best pumpkin recipes I can find into a fall cookbook that I pull out each year. I'm excited to share some of my favorite recipes with you!
Pumpkin Soup
1/12 teaspoons salt
4 cups pumpkin puree
1 teaspoon chopped fresh parsley
1 cup chopped onion
1 clove minced garlic
1/2 cup heavy whipping cream
5 whole black peppercorns
Heat stock, salt, pumpkin, onion, thyme, garlic, and peppercorns. Bring to a boil, reduce heat to low, and simmer for 30 minutes uncovered.

Puree the soup in small batches (1 cup at a time) using a food processor or blender.

Return to pan, and bring to a boil again. Reduce heat to low, and simmer for another 30 minutes, uncovered. Stir in heavy cream. Pour into soup bowls and garnish with fresh parsley.
This easy pumpkin recipe is ready in an hour and 15 minutes (including prep time!).
Pumpkin Gingerbread
Photo Courtesy of Dabbling Diva
3 cups sugar
1 cup vegetable oil
4 eggs
2/3 cup of water
1 (15 ounce) can of pumpkin puree
2 teaspoons ground ginger
1 teaspoon ground allspice
1 teaspoon ground cinnamon
1 teaspoon ground cloves
3 1/2 cups all purpose flower
2 teaspoons baking soda
1 1/2 teaspoons salt
1/2 teaspoon baking powder
Preheat oven to 350 degrees F (175 degrees C). Lightly grease two 9×5 inch loaf pans.

In a large mixing, combine sugar, oil and eggs; beat until smooth. Add water and beat until well blended. Stir in pumpkin, ginger, allspice cinnamon, and clove.

In medium bowl, combine flour, soda, salt, and baking powder. Add dry ingredients to pumpkin mixture and blend just until all ingredients are mixed. Divide batter between prepared pans.

Bake in preheated oven until toothpick comes out clean, about 1 hour.
Creamy Pumpkin Sauce (Great for Pasta!)
2 teaspoons of oil
1 shallot (chopped)
2 tablespoons butter
2 tablespoons flower
1 cup light cream
1 pinch salt
1 pinch ground cinnamon
1 cup pumpkin puree
1 cup chicken broth
1 tablespoon sage
1 1/2 teaspoons thyme
Heat oil in a skillet over medium heat; cook and stir shallots until soft, about 10 minutes. Add butter and allow to melt. Whisk flour into butter mixture until incorporated. Stir cream, salt, and cinnamon into butter mixture and continue whisking until incorporated, about 2 minutes.

Mix pumpkin and 1/2 cup chicken broth into cream mixture, adding more broth, 1/4 cup at a time, until desired consistency is reached. Simmer sauce until desired consistency is reached, 5 to 10 minutes. Stir sage and thyme into sauce.
Peanut Butter and Pumpkin Dog Treats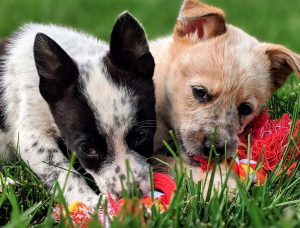 Photo Courtesy of @beardedwanderermedia
We can't forget about the fur babies! Marcuccio and Emma love peanut butter and pumpkin….here is one of my favorite recipes for our furry friends!
2 1/2 cups whole wheat flower
2 eggs
1/2 can pumpkin
2 tablespoons peanut butter
1/2 teaspoon salt
1/2 teaspoon ground cinnamon
Preheat oven to 350 degrees F (175 degrees C).

Whisk together the flour, eggs, pumpkin, peanut butter, salt, and cinnamon in a bowl. Add water as needed to help make the dough workable, but the dough should be dry and stiff. Roll the dough into a 1/2-inch-thick roll. Cut into 1/2-inch pieces.

Bake in preheated oven until hard, about 40 minutes.