Simple Projects and Makeovers to Keep Your Home Up to Date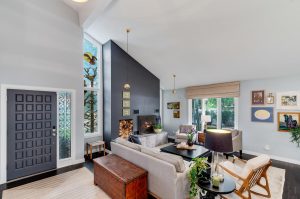 Sellers- this post is for you! Are you considering selling your home, or are you in the process of listing your aging and out dated home?
The process of selling a home can be expensive as is, but buyers are often less hesitant to put in an offer on a property if they know they will have to make upgrades. Here is a list of some simple and affordable upgrades that can really make all the difference when it comes to getting the most out of your home … i.e.
the highest price!
Paint, Paint, Paint!
PAINT, PAINT, PAINT – I can not emphasize enough how much a fresh coat of paint on the interior walls of your home goes. You'll want to paint everything in a neutral, non-trendy tone. Think white, grey, or taupe – my go to favorite color is Benjamin Moore "Metro Gray," BM -1459. Sorry, no turquoise or red accent walls allowed here. I suggest going with these lighter colors to make the home feel bigger, brighter, and cleaner. It's all about showcasing how large your rooms are, while making them feel airy and pristine.
This is a great lead into the next topic, but if your cabinets can't be re-stained think about painting them! I would recommend researching this project or hiring a professional because this project should be done in a professional manner. A sloppy paint job can highlight what you're trying to update, so take the time to do the job right!
Saying that, please be thoughtful and take your time with paint touch-ups. Sloppy paint jobs can make your house look worse, so if you're going to spend the time and money make sure that you're thorough.
Staining
Staining!  Like paint, certain stain colors come in and out of style. Consider re-staining hardwood floors along with your front door. These all add to the first impressions buyers have of your home so make it count! If your cabinets look a bit shabby, consider re-staining kitchen and bath cabinets as well.
Replace Hardware – While these are small items, outdated hardware can immediately make a home feel dated. Kitchen and bath handles, faucets, drawer pulls, etc. are inexpensive and go a long way when trying to add luster and help make your home feel up-to-date. Metal tones come in and out of trend, hello brass! We finally got rid of all the brass from the 80s and now it's back with a new life in the form of brushed brass.
Lighting
Lighting – Replacing light fixtures where you can with new and updated light fixtures is relatively inexpensive and helps freshen things up! Not only do newer fixtures often cast more light, but they are also more energy efficient and often support energy efficient light bulbs.
Carpeting – This is the one that can get rather expensive depending on how much carpeting you have in your home. First step is to try to clean your carpets to remove any stains and built-up dirt. If your carpets can't be saved by cleaning, then this is likely going to be biggest hit to your budget but new carpets instantly make your home feel new, fresh and clean!
Tile – Oh how I love tile! This is a fairly easy way to update a tired bathroom. But, please don't ask me to help. I've tried to grout along we trying to re-grout my bathroom with miserable results. I now hire the professionals which is well worth it!
Backsplash
Backsplash – When you can't afford an entire kitchen renovation, think about adding a decorative or colorful backsplash. This will add major value to your kitchen. Couple it with newly stained or painted cabinets and your kitchen could look brand new!
Update the Entry – Consider painting, or re-staining the front door which is the first impression a buyer will have of your home. Look into changing the address numbers out as well – I love the super modern house numbers! Purchase a new welcome mats or rug to help make your entry look fresh. Store or replace outdated patio furniture and planters. Cleaning up the landscaping and adding some potted plants will earn you extra bucks. After all, this is the first thing your buyer will see and can be a make or break.
Staging
Staging – I'm not suggesting that you buy new furniture for a home they are trying to sell, so consider either storing bulky and outdated pieces or hiring a stager. A stager will bring in their own pieces or offer a second opinion on furniture placement to really showcase the square footage of the home. While I offer staging advice to all of my sellers, sometimes we need to call in the professionals. Taking the time to make sure your house shines before going on the market can be the key to success  with getting your home sold as quickly as possible.
Clean, Clean, Clean!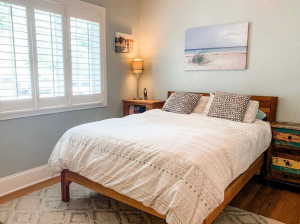 Clean, clean, clean – Let me start off my saying I have a critical eye, but nothing drives me more crazy than walking into a dirty home. I suggest hiring a professional cleaner to really do a deep clean of areas we normally overlook This may seem like going overboard, but we all have blind spots with our homes, but a professional deep clean will get into every corner and far up spider's web.
If you can't do all of these items, may I recommend addressing the front door, fresh paint throughout the house, don't forget painting the trim, and carpeting!
If you take one things away from this post, please stay away from design trends that are not timeless. These trends will only make your home look dated over time and before you sell it may cost you or the buyer an arm and a leg to replace.
Want a personalized analysis on what items you should look at addressing? I would be happy to schedule an appointment to give you my professional opinion on what should be addressed and what can wait. More often than not what you think is a huge issue may not be and I find an item that helps get you a better return on investment! My moto is to spend your dollars as wisely as well can so that we aren't waisting your investment. After all, this is a home you are parting ways with. Let's get it updated right with the smallest investment we can!