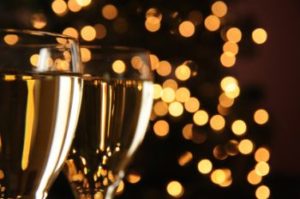 I love hearing stories about polar bear clubs whose members take the plunge into icy waters on New Year's Day, but I've always been a traditionalist when ringing in the new year.  Chilled champagne is more my style.
Fast forward to December 31st, 2015 when a friend asked me to come along to the Evergreen Lake Plunge in Evergreen, CO to offer her moral support. I thought she'd lost her mind, and couldn't believe she wanted to do this while Denver is enduring an unusual December cold snap. Given my curiosity, I agreed to come along.
Then it occurred to me – perhaps I should join her rather than stand on the side lines. I would give myself the option to participate, or not. I threw on my swimsuit and added more layers including coat, hat, gloves and towels. We also had a blanket on hand.

At the lake we breezed through registration and claimed our spot in line where we had a front row show to watch people dive, cannonball and belly-flop into the frigid waters.
Before we knew it, it was our turn to set our jackets aside and join the line forming on the ice. Then it was suddenly our turn to take the plunge.  Yikes, and Ouch, and Whoopee!!  I'll call this one and done.
Firefighters from Evergreen Fire Department were in diving suits stationed in the water to help everyone get through the pool. I cannot thank them enough for spending their afternoon floating around in frigid water.  My brain went numb when I jumped in. Self protection, I guess. The firefighters' encouraging words, reminders to breathe, assistance to the ladder and exiting the pool were all I could focus on.
The second we were out of the water, I dashed to my bag to put on boots and wrap up in a towel and blanket. The most fascinating phenomenon was how the previously cold air felt tropical.
We were quickly moved into the warming hut/changing area to dry off and reflect on what we had just accomplished. We agreed that we were extremely proud of ourselves and that we both felt refreshed. Ready to kick off 2016!
Click here
to watch the Denver Chanel CBS4 news story on the Evergreen Lake Plunge
A few notes:

The plunge starts promptly at noon, however directions are clear that you should plan to arrive an hour early. The lake operates on New Year's Day as any normal day with open skating sessions, multiple hockey games, ice fishing etc, so parking can be difficult. Taking the free shuttle from the Evergreen 1st Bank parking lot is the easiest option.
Wearing water shoes or old tennis shoes would have been key to making the experience that much more "enjoyable." The most challenging part of the whole experience was standing barefoot on the ice, while waiting for other groups to take their dip.
Happy New Year to Everyone.  Lifestyle Denver predicts a fantastic 2016!
January is the time of year when Denver's real estate market really picks up.  Keep an eye on new listings at Gretchen's Denver and Libby's Denver! Our web sites show you all of the most current MLS idx data.