The Absolute Best Shops Along E 6th Avenue: Rosy Rings
Part Deux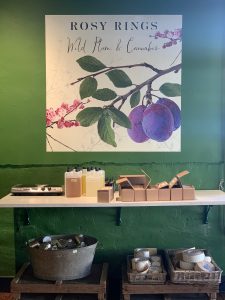 If you read my last post highlighting Homebody you know that I've fallen hard for the shops on 6th Avenue.
While still technically in Cherry Creek, they feel like Cherry Creek's little sister. They're a bit hipper, locally owned, and they have easy parking right outside the front doors! Oh, and did I mention parking is FREE!? Say goodbye to the meter and congestion in Cherry Creek and take a second look at the shops on 6th.
The newest member to the crew is is Rosy Rings, located at:
2940 E 6th Ave
Denver, CO80206
Open 10am-6pm
Closed Sundays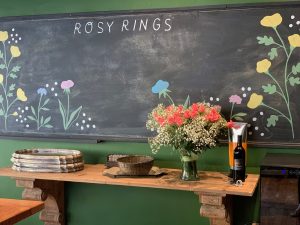 Opening their doors just a few weeks ago, this shop has quickly become a new favorite. A friend of mine turned me onto this company a few years ago during a visit. At first, I was a bit skeptical by the hype because she just kept raving about them. I certainly agreed they were beautiful with the ring of dried fruit and flowers around the ring of the candle … get it … rosy rings?
Anyhow, about a month later I bought my first candle which is still my favorite scent today. It's the Spicy Apple that I now burn every September throughout November. The scent is so comforting and smells like Fall to me. I mean how can Spicy Apple not feel like Fall? And, the best part? Even when I don't have the candle burning, I still get comments on how great my house smells. It's the genius behind that rosy ring that emits the amazing scent.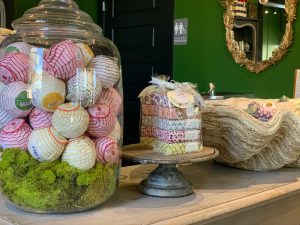 Note: Once Thanksgiving is o-v-e-r, I'm onto my second favorite scent Red Currant and Cranberry.
What I Love
What I love most about this store opening is that all of the scents are now available to me. In the past I could find them at other neighborhood boutiques like (The Lark & Wildflower ) or on Amazon. I'm more of the touch it, feel it kind of shopper, so shopping for candles on Amazon has always been hard for me but they have a wider selection than the picked over selection as most stores. I have to say, I was a bit blown away by all of the scents.
Insider tip: Their metal, two-wick canisters are only $10 and are not only a great hostess gift but also a great way to test out what could be your new go-to scent for your home. My favorite part about these canisters is that they also come with a mini match book set that are seriously THE BEST MATCHES. They light easily, burn slowly so you don't burn yourself and aren't flimsy like most matches found in a matchbook.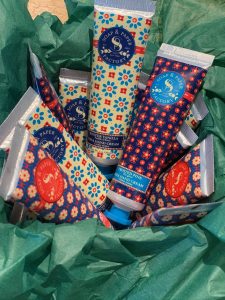 What is so great about this company is that it's owned by a local Shannon Cumberland. After spending time at national trade shows the business took off, allowing her to learn all facets of the business down to driving a forklift.
The Rosy Rings store is the flagship store and studio, the latest endeavor Shannon has taken on. The store is an absolute delight to walk through. You will find housewares, floral potpourri, Rosy Rings sachets, candles and so much more.
But, what's really exciting is the studio!
Workshops Galore
They offer workshops either hosted by the studio, or private workshops for up to 12 people. Participants will learn about fragrance blending and have the opportunity to pour their own candle while learning the art of working with dried botanicals. The workshops last about an hour and a half and yes, wine and beer are available! The candles will cure overnight at the studio and are ready for pick-up the next day. Let me just say I'm jazzed to host an event there for some of my nearest and dearest.

If you're interested in doing a workshop, let me know! I would be happy to join you and show you some of the gems found along 6th Avenue!