The Storm Cellar Wins Big with The Wall Street Journal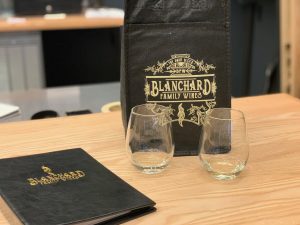 I've been in the "know" about The Storm Cellar recently because a friend from high school recently left the Mile-High City to take a job with this small winery in Hotchkiss. I've been watching her Instagram stories lusting over the grapes. But most impressive is her ability to leave the hustle and bustle of the City and settle into the romance of wine making.
Let me start by saying that I recently returned from a trip from Sonoma and am eagerly awaiting a bit more wine tasting in Carmel Valley over the Thanksgiving holiday. So, it's safe to say I'm in a wine state of mind!
Anyhow, I just learned that The Storm Cellar just made the cover of the Wall Street Journal's weekend edition highlighting the story of Steve Steese and Jayme Henderson. Even more impressive? They purchased
the historic Redstone Vineyard from Plum Creek Winery in 2017.
Steven and Jayme formerly worked at Shanahan's Steakhouse, Barolo Grill, Ya Ya's Euro Bistro, Coohills, Maggiano's, and Cru Wine Bar between the two of them. In 2017, they traded City life for overalls, heavy boots, and early mornings. They had a dream of making great wine in Colorado with the goal of helping to put an up and coming region on the national map … and they did it!
Colorado is Growing
As Colorado grows, so grows the need and desire for two things: unique, quality, local products and more destination hot spots.
As mentioned, the Wall Street Journal was so impressed they named the 2018 Dry Riesling as one of 20 wines as a must-buy for the Thanksgiving Holiday this past weekend. Oh, and they also poured over 800 glasses at the Colorado Governor's Cup wine competition where their two Rieslings took home double gold medals!
Follow along with their journey at @StormCellarWine on Instagram. And, don't forget to follow Jayme who is also an award willing blogger and can be found at @Hollyandflora on Instagram.
Ok, so where can you find The Storm Cellar in Denver? You can visit some of my favorite restaurants Shannahan's Steakhouse , Ya Ya's Eurobistro and Elway's.
Or, take a trip down to the Dairy Block like I did and visit the Blanchard Family Wines Tasting Room  and pick up a bottle!