Tile Never Goes Out of Style, and No Matter Where You Put It, Tile Always Adds Color and Creativity to Your Space!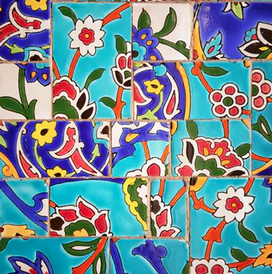 Utilizing tile in your home is a way to get creative. It's like painting a picture, scrapbooking, or putting together a collage for your home. The tile industry is always coming out with new patterns, colors, and ideas. How do you know if tile is right for your space? Chances are, it absolutely is! If you remember, I recently had a mold problem in my own bathroom. The upside? Getting to redecorate and personalize my home with colors and patterns that make it feel like my own!
Where Can Tile Go?
Kitchen
Bathroom
Fireplace
Outdoor spaces
Laundry Room
Living Room
Flooring
Backsplash
Entryway
Edge and Trim
Walls
You can completely amp up any of these spaces with a splash of color. Minimalistic is very in right now, but I would encourage you to branch out from that trend! Geometric tiles tend to create a more traditional (yet unique!) look, while reflective tile can amplify the colors you have in your room (I prefer this kind for bathrooms, but you can make it work anywhere!).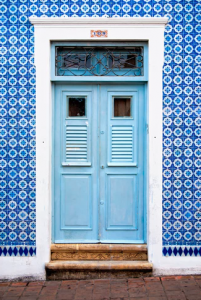 Another kind of tile I find interesting is the "non-uniform" tile. This can also present itself as "high and low" tile. In other words, these tiles can be scattered in a carefully disheveled pattern that void the eyes of consistency. It creates movement and fluidity in your space. Your eyes won't know where to start!
Not sure About Color?
I get it! Adding an excess of vibrancy to your space can be scary, but there are ways you can start slow. White tile, while simple, is also very elegant. White tiles add a sleek, yet modern touch to your space. It also allows you to add small touches of color to your room (green stools, yellow bath towels, etc) if you go that route. You can also choose fun patterns that add an extra pop!
The Green Eyed Monster
I title this section "the green eyed monster" because green tile is so in…and is something to be jealous of because it can be absolutely gorgeous! I'm not talking one shade of green in particular, as mint greens, bright greens, and jade greens are all trending in the tile world. Here's something I learned recently: jade green and pale blues work wonders in a space! My favorite hue is emerald that I've even been incorporating into window treatments, but more on that later.
A Trip to Greece
Navy and white are very popular tile colors. While we see them together frequently, I will never get tired of the elegance and the way they make you feel like you've just hopped on a plane to the Mediterranean. This pattern allows you to harmonize with other neutral colors in your space. I highly recommend this color palate of tile especially as blue is my favorite color!
Ocean Ombre
There's nothing better than walking into your home after a long day at the beach and seeing your ocean ombre tile waiting for you in the bathroom….Okay. Now that we've woken up from that daydream, let's remember we live in a land locked state! That's all the more reason to add an ocean vibe to your space, which can easily be achieved through tile! I think this idea looks best in the bathroom, but if you try it anywhere else be sure to tag me on instagram using #goexploredenver so I can see!
Wood Floor Tile–It Exists!
Wood floor tile is out to pave the way for a more rustic, natural stone. It adds a completely different look than wood flooring, yet embodies the same "rustic" and "homey" feel. I've been seeing a lot of it when I tour homes recently, and I definitely think it's a great way to personalize your space!
Tile Never Goes Out of Style 
It's true. While some of us have seen the 70s bright pink or green tile, it's important to remember that even those styles can be updated to make your home feel like yours. I love tile because I think it's a fun way to personalize your space. Being creative with our spaces makes us feel more at home, and I highly recommend using tile as a way to achieve that!
Do you have questions about tile, living in Denver, or Denver's real estate market? Contact me! I'm excited to share my knowledge with you!