Amtrak Offers a One-of-a-Kind travel Experience for People Looking for a Little Adventure
I recommend heading West!
I was recently speaking with a friend about her Amtrak travel experience. She jumped on board in Chicago and road the train all the way to Denver's Union Station. She stopped in to grab a bite and a coffee at Pigtrain Coffee Co. before heading back to the platform to adventure further into Colorado's unparalleled exploration opportunities.
Union Station is easily accessible from most parts of the metro area. You can hop aboard the lightrail, take an Uber, walk, or bus from most areas. Stop at Snooze before checking your train's status and enjoy their blueberry danish pancakes at the start of your trip. Next, walk to your platform and await one of the most serene, beautiful, and unique travel experiences you can have!
You can view the full list of Train Schedules and routes here. There are copious amounts of routes to choose from and I guarantee you'll find one that fits all your travel desires. I recommend heading West, where you'll be engulfed by the beauty of the Rockies and perhaps find yourself in the middle of a winter wonderland outside of Winter Park.
Traveling by train is a wonderful way to make new friends. Most of the other passengers you'll encounter are looking for the same unique travel experience you are. There will be plenty to discuss as the train enters a 20 minute tunnel from the East side of the sunny Flatirons and spits you out into a full blizzard with skiers waving at you as you pass by.
Most routes include sleep accommodations and small style restaurants for your needs. I guarantee you'll want to stay up all night as the train glides under infinite amounts of stars you've never seen.
Relax and Enjoy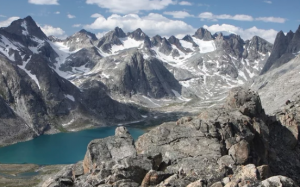 Make sure you choose a route where you can spend a few days at your end destination. If you're heading East, the Chicago/Kansas City route is highly coveted! Seattle, Portland, and Los Angeles are some of the final destinations for Amtrak trains heading West. In addition, Amtrak prices tend to be significantly more cost effective than flying, giving you more time and resources to spend exploring your final destination.
I hope you enjoy! #goexploredenver and #goexplorecolorado!