Denver B-cycle is a Fun Way to Sustainably Explore the Mile High City and it's Magic
And Bike to Work Day is Fast Approaching!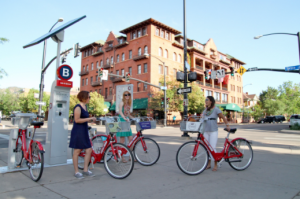 Denver is home to the magnificent B-cycle. Their concept is simple: pick up a bike whenever you need it. B-cycle encourages both sustainability, fun, and exploration for people of all ages throughout the Mile High City. Whether you're vying for a visit to the museum, want to explore an unfamiliar neighborhood, or need a ride to work, B-cycle is there for all your transportation needs.
You can purchase a membership with B-cycle or jump on sporadically when you need a lift. Memberships are cost effective and can be purchased by the day, trip, month, or year. If you have friends and family visiting from out of town, all they need is a credit card! Memberships are not required to participate. You can find pricing and membership options here.
B-cycles are accessible to all sizes and come equipped with a bell, basket, and lock. Safety is their priority, and all bikes come with pedal lights for night riding. Not sure where to find a B-cycle? Make sure to download their app for easy access to all B-cycle stations across the city.
Bike to Work Day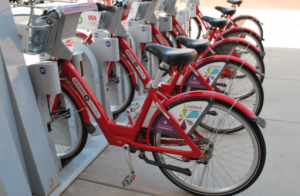 Bike to Work Day is tomorrow, June 27th. Registration is open to everyone and you'll be given a t-shirt and additional materials for your participation. This event is a great way to encourage sustainability, fun, and healthy living. People all across the Mile High City will be participating. The option to join a group ride is also available.
Acquire a new perspective on your daily commute with Bike to Work Day! Don't have a bike? B-cycle is ready to assist you with your Bike to Work Day needs! Get outside, encourage health and wellness, and enjoy a beautiful Colorado day!