Denver's Best To-Go Brunch
A Guide to Denver's Brunch Scene During COVID-19
There's nothing I love more than going out for brunch! But during social distancing, that's a big no no. So I've been brainstorming ways to still enjoy one of my favorite parts of the weekend in a way that keeps myself and my neighbors safe. And let me tell you, this post was hard to write simply because of how much my mouth was watering! We are so lucky to have as many amazing brunch spots as we do in Denver. Let's support our local restaurants by getting to-go brunch on the weekends and bringing some sense of normalcy into our homes. If you're not too busy re-designing, that is!
Ivy on 7th has officially been open for 1 year! This stunning spot, located in the Governor's Park neighborhood, is truly one of the best new brunch spots in Denver. You can check out their to-go menu here (and it includes coffee…. the best coffee EVER).
My favorite items for brunch: Lemon-ricotta pancakes, the Ivy cristo, crispy potato waffles, chai tea latte
Options: takeout
There's no question that Snooze is one of Denver's favorite brunch spots. I almost miss waiting in line for over an hour on 7th avenue with a cup of coffee or a mimosa in hand (kidding, I definitely don't miss the line).
BUT…. I drove by yesterday and saw a coffee and mimosa bar set up outside for those who are waiting for takeout. So all is no lost! Check out their brunch menu here and get your pancake one!
My favorite items for brunch: ranges between the pancake flight so I don't have to choose and they have a killer menu of gluten free pancakes thank you very much! And, for the kids menu click here.
Options: delivery and pickup, online ordering
My favorite little spot! Located in the Hilltop/Hale/Mayfair neighborhood, La Fillette is like taking a little trip to France (which I am dying for…. aren't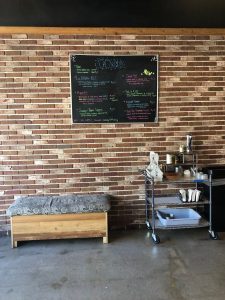 we all?). They are open and still serving up some of the best cinnamon rolls in the city! I highly recommend getting take out from this awesome local cafe which has everything you might want for your Sunday brunch and more…
My favorite items for brunch: quiche lorraine (oh, butter!).
Options: takeout, online ordering
I'm looking at you, Parkhill and Virginia Village! Esters is one of my favorite spots for dinner, but did you know they also have a killer brunch (hello, gluten free carrot cake!). Esters is located at Oneida Park in Parkhill (and if you haven't checked out that little spot yet… I highly recommend it!) and in the Virginia Village neighborhood.
Check out their online menus here, which also includes alcoholic beverage to-go! Get those mimosas flowing!
My favorite items for brunch: gluten free carrot cake, pear and arugula salad, hummus and pita
Options: take out and delivery via uber eats
Turn on the jazz and bring New Orleans to your home with an awesome to go brunch from Lucile's! Lucile's is offering brunch meal kits and a limited menu for takeout.  They also have both bloody mary and mimosa kits for sale, the perfect addition to a stay any at home brunch. They have many locations around the state, so I'm guessing you won't have to go far (Wash Park is one of my favorite locations!).
My favorite items for brunch: bloody mary kit, eggs Benedict, Lucile's biscuit and gravy, beignets
Options: takeout (via phone)
Platt Park was awarded a true culinary gem when Hoja moved in over a year ago. When I found out they were doing to-go brunch, I was so excited! Now is the perfect time to try this place out if you haven't already….there's usually crazy lines here (and there will be again!), so take advantage of their online ordering feature to avoid the busy-ness. Head on over to S. Pearl Street to get the brunch you need and want this weekend!
My favorite items for brunch: farmers burrito, chorizo quesadilla, matzo-ball soup, green chili
Options: take out; online ordering
Things might feel a little out of sorts right now, but we don't need to sacrifice all of our favorite activities 🙂 Bring brunch home to you and support small businesses who wants to serve you the fantastic food they're used to making every week. Additionally, if you have questions about COVID-19 and the Denver Real Estate Market, I'm here for you! Contact me here for questions about living and thriving in Denver.