Street Art has Brightened the Denver Metro Area for Decades

The Denver Metro area has been brightened and illuminated by street art for decades, and it's beginning to grow even more. In just one summer, over 100 new creations popped up around the city. The artists see their surfaces as blank canvases, guided by their imaginations and experiences. Exploring Denver's street art is a great way to spend time with friends and family. As the weather gets nicer, we're expecting even more spectacular works of art to emerge. Areas like RiNo and the Santa Fe Art District are blossoming with vibrancy. South Broadway and Confluence Park are bursting with color.
This post is dedicated to the artists and creatives that are painting Denver with vitality.
RiNo

The River North district is often referred to as, "where art is made." This area has become one of the most popular for people of all ages. It has a booming music scene, gourmet restaurants, and most relevant to this post, an indescribable art scene.
Larimer Street is arguably one giant painting from 25th avenue all the way to Downing Street. The buildings, walls, fences, and alleys are blooming with color this spring. In September, the Colorado Crush Street Art Festival brings people from all over the city who are keen on admiring artist's works. RiNo is an outdoor gallery of color, intent on creating a palpable vibrancy and energy.
South Broadway

South Broadway, routinely known as the Antique District, is seeing beautiful street art popping up in alleys and on buildings. Broadway has always been a hub for street art, but with its growing popularity credited to new bars, restaurants, music venues, and galleries, we are beginning to see more.
This summer, swing by some of Denver's best antique stores on South Broadway. Afterwards, step in and out of the alleys, parking lots, and buildings on the west side of South Broadway to find colorful surprises. Hungry? GB Fish and Chips has one of the best murals just tucked behind the restaurant. I hope you enjoy!
I-70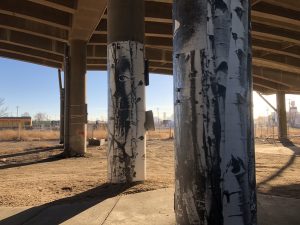 The I-70 viaduct is covered with gorgeous art and graffiti from various local artists. These walls are constantly changing, which means you can stop by as often as you want and expect to see something new! This breathtaking art stretches from Brighton Boulevard all the way to York Street. Over 30 local artists have contributed to the viaduct, meaning a plethora of different styles and aesthetics paint these walls.
Walking Tours
The City of Denver offers various guided walking tours of the street art scene. The Denver Graffiti Tour is a two hour excursion into the art and culture painting the Mile High City. This tour primarily focuses in RiNo, and is the perfect event to brings friends, family, or go solo. Visit their website to reserve your spot!
The Denver Chalk Art Festival
The Denver Chalk Art Festival is just a few weeks away, and is another perfect way to celebrate the Denver outdoor gallery scene. The festival is June 2nd-3rd this year, and takes place on the historic block of Larimer Street between 14th and 15th Avenue. This event is completely free, and is perfect for children and adults alike. Find out more about this unique, colorful art festival here.
I hope you enjoyed learning about some of my favorite places to admire the Denver Street Art Scene. Are you interested in learning more about Denver's Street Art and surrounding neighborhoods? Contact libbysellsdenver.com or visit my contact form. I can't wait to hear from you!