Get Out of Town Feature: Estes Park
Feed Your Wanderlust in One of Colorado's Most Popular Mountain Towns!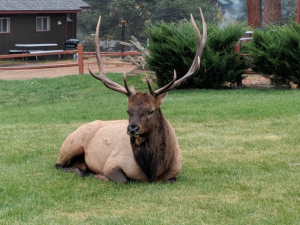 Oh, Estes Park, How I love thee!
If you're looking for the ultimate mountain getaway … this is it! I am completely in love with this place and am thrilled to share it as next feature in my Get Out of Town Series. I've been traveling to Estes Park for years and have never been anything other than spellbound by it. The views, the food, the shopping, the exploring … all of it is completely top notch. Estes Park is about an hour and a half from the heart of Denver. They are the base camp for adventurers of Rocky Mountain National Park, Longs Peak, and Twin Sisters Peak. This is the outdoor lovers dream! But if you're like me and love the food scene too, Estes Park has it all.
This was the first road trip we took the puppies on to see the Aspens. While we unfortunately learned the pups get car sick a bit too easily, I still love the memories I have of watching them plan in the creek running through town. It was their first mountain water experience and I'm so glad I took video!
Lodging
One word: STUNNING. These luxury lodging spots offer easy access to both downtown and the mountains. What spectacular views of the continental divide? You got it!
There are many wonderful places to stay in EP. But if you want rich history and some spooky vibes (not really…. but for those of you who don't know, The Shining by Stephen King was written here – contrary to popular belief the move was not filed at The Stanley Hotel unfortunately), this is the spot for you.  And, for extended stays, they offer expanded apartment style suites. Ooh la la!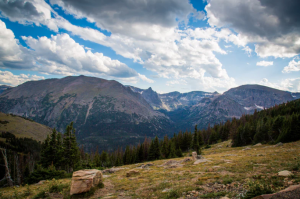 Rocky Mountain National Park
Have you heard of it? The most visited national park in the country is right in the heart of Estes Park! RMNP is 11,000 feet in altitude with various hikes, trails, and wildlife sightings for you heart's desire. Be sure to reserve your timed entry permit before you go, as they are in phase 2 of re-opening the park.
Activities and Events
One of the things I love most about Estes Park is that there's always something to do. They have various outdoor and COVID-conscious events happening throughout the summer months, including music around the campfire, the Monday artisan's market, the weekly Thursday farmer's market, bingo, and various outdoor concerts. You can find a full, up to date, real time list of activities on Estes Park here.
Dining
Dining at the Continental Divide?? Yes, please! I love the food in Estes Park. I wish I could bring some of my favorite restaurants with me back down to Denver!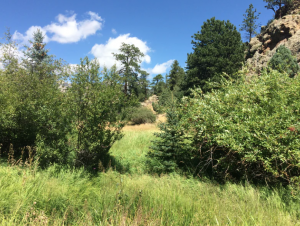 Some favorites:
Dunraven at the Estes Park Resorts: a Angelo's Taverna feel!
Poppy's Pizza and Grill: fun, casual vibes!
The Barrel: top notch beer garden!
Claire's Restaurant and bar: the perfect post-hike hang!
Grubsteak Restaurant: the best views in the house!
Be sure to check any information related to COVID they have on their websites, as some restaurants require reservations in advance.
Thanks for reading! Do you have questions about living in Denver? Contact me! For my latest market stats post, click here.