Denver Has A Spectacular History, and With That Comes Some Spooky Tales That Color the Fall Season
Denver's Top 5 Spooky Spots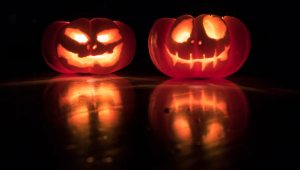 I love Fall. I love watching the leaves change color, bringing my warm winter sweaters out of the closet, and stopping in for a PSL every once in a while…. But one of my favorite parts of Fall is exploring Denver's spooky history. There's always more to learn each year, especially in a city with such an eclectic, fun history. The Mile High City is home to many haunts, and some might be closer to you than you think….I'm excited to share my top 5 spooky spots in Denver with you!
Cheesman Park

Denverites love to visit Cheesman Park during the warmer months. During any given day, you'll see groups having picnics, people walking their dogs, or reading under a shady tree. But do you know Cheesman Park's spookier history? Cheesman, like many of Denver's parks, was once a cemetery. Have you ever heard spooky whispering or a subtle "boo!" while visiting this park? Well, now you know why….
Cheesman was transformed into a park once citizens lost interest in taking care of the cemetery. It is rumored that over 2,000 "ghosts" or "spirits" still patrol the park.
The Buckhorn Exchange

The Buckhorn Exchanger is a quintessential historic Denver spot. On any given day, you'll see groups of students visiting for a class field trip, or regulars coming for their weekly meal. You can spot the Buckhorn Exchange from the E, F, H, and D lines on the lightrail….a seemingly innocuous spot for Denverites to visit….or is it?
The Buckhorn exchange has a spooky history. Back in the day, cowboys, miners, and railroad workers stopped in for a bite to eat. Teddy Roosevelt made an appearance there in 1905. We're not sure what caused the regular paranormal activity to occur there, but we know the "ooooo's," "boooo's," and moving tables are no thanks to the employees and customers that visit…spooky!
Capitol Hill
Capitol Hill is one of Denver's most coveted neighborhoods. Millennials and transplants alike are flocking there in large numbers. But do these Denverites know Cap Hill's true spooky history?
Historically, Denver's wealthiest citizens took residence in Capitol Hill. Many of the old mansions and buildings in Cap Hill still stand, and remind us of Denver's colorful history. It is said that many of these people still haunt the Capitol Hill area… The Governor's Mansion, and the Capitol are two of the spookiest spots in this neighborhood. There have been many paranormal sightings at these spots, which is nothing to joke about! The former Capitol Hill residents mean "boos"ness.
The Cash Register Building

Not all of Denver's spooky spots are from the early 19th century. The Cash Register building is rumored that it's infamous sway is actually caused buy the hundreds of ghosts that inhabit it. The Father's Day Massacre that occurred in this building has never been solved, and it is rumored that many of the security guards become discombobulated while working. Possessed by a ghost, perhaps?
The Molly Brown House Museum

If you've lived in Denver long enough, odds are you've visited the Molly Brown House Museum. It's perfect for kids and adults, and explores the fascinating history of the "un-sinkable Molly Brown." This house is associated with some very eery ghost lore.
Since Molly Brown's inhabitance, the building has been home to a plethora of others before it was finalized as the museum. It was a home for girls and an apartment complex for distressed boys. There are many reports of paranormal activity, spooky sounds, and ghost activity in the home. The Molly Brown House offers exclusive tours daily, and if you're looking for a fun and educational activity, be sure to check it out!
Beyond Denver
Denver is not the only Colorado town with haunted areas. If you're looking to get out of the city, be sure to check out these spooky spots around the Centennial State!
The Stanley Hotel- Estes Park
The Ghost Town of St. Elmo- Chaffee County
Hotel Jerome- Aspen
The Streets of Georgetown- Georgetown, CO
Hotel Colorado- Glenwood Springs
Colorado Grande Casino & Hotel- Cripple Creek
Colorado Prison Museum- Canon City
Littleton Melting Pot- Littleton
Silver Cliff Cemetery- Pueblo
Spider House- Grand Lake
Do you have questions about Denver's spooky history, or maybe just questions about Denver? Contact me! I can't wait to share my knowledge of the Mile High City with you!