The Holidays Have Arrived, and it's Important to Shop With Local Denver Businesses this Season!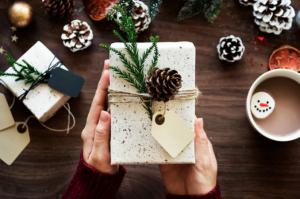 I love the holidays! I'm having so much fun walking the pups around my neighborhood this year….so many fun, festively decorated homes to look at! I'm really getting in the spirit this year, which is a good reminder of how important it is to small businesses to shop locally. I've curated the Lifestyle Denver holiday gift guide to feature lots of locally owned Denver businesses. Be sure to check out Part I if you haven't already, and happy shopping!
Gift Guide Part II!
Bespoke Gifts (they also do a LOT of closing themed gifts for realtors, interestingly enough!): Bespoke gifts does custom ornaments and designs on pretty much anything you can think of! (For Example: bring in a photo of your dog and they will hand draw a gorgeous photo of him on an ornament, etc.)
Boozy Botanicals: These are my favorite! Developed by a local couple who makes flavored syrups for cocktails or desserts! I have the hibiscus one and my whole family loves it. They also donate 10% of their profits to rescue animal charities!
Kate Biscotti of Biscotti Designs: she is local and makes AMAZING and hilarious coaster and card designs. I have a few coasters on my coffee table right at this moment!
Sarah O Jewelry: her designs are AMAZING. I would have all of her jewelry if I could. Be sure to peruse her website or find her at one of Denver's holiday markets this season!
Rose and Royce: She makes great jewelry pieces, and she also designs fantastic decorative cow skulls that she adds flowers, plants, and bead work to!
Rocky Mountain Posters: they make great posters, cards, gifts, etc. with Colorado designs on them. It's the perfect gift for the Colorado lover in your life!
Bjorns Honey: they make great Colorado honey that people come in flocks to buy….a fantastic stocking stuffer/small gift idea!
ReTied Bowties: responsibly made bowties for the guys! Every time a tie is purchased a tree is planted. They have really unique designs, which you won't find anywhere else!
#GoExploreDenver!
ReRoot: for plant lovers….additionally, they have very reasonably priced pants, books, journals, and special plant ritual kits. You'll find yourself wanting everything in their space for yourself! (Located at Modern Nomad).
The Local Deck: coasters from various local Denver beer spots. Their motto: give the gift of experience!
Ella B. Candles: You can find these specialized candles for each Denver neighborhood (they have Wash Park, Parkhill, Congress Park, Southmoor Park, Cherry Hills Village, University Hills, Bonnie Brae, Denver, Mile High) and when you buy from them from Wish Gifts, you're supporting a small local business!
Trek light Gear: based out of Boulder! They make hammocks, blankets, and packs for exploring Colorado! #GoExploreColorado with one of their amazing goodies!
The Spice Guy: Another small gift idea, another way to support a local Denver business! Spice up your cooking (and your life!) with these amazing local recipes!
Callahan Ceramics: Callahan Ceramics makes such amazing mountain themed mugs, pots, diffusers, etc. He's super talented and I wish all my mugs were his. So Cool!
Old Pine Candle Company: I have a million of these candles…. and they are all so great! She hand makes them in Evergreen (and they smell like the mountains!)
Helliemae's: She makes amazing caramels out of Wheat Ridge! Another small gift/stocking stuffer for the sweets lover in your life!
Sassy Caddy Inc: these ladies make tote bags, golf bags, tennis bags, and accessories for women! For women, designed by women. I love their motto!
Good Karma Products: She makes fantastic Mala's for the yogi in your life! Additionally, she also creates handmade soaps that small amazing!
Brixtix Bakery for Dogs: We can't leave out the pups! This company make such cute cookies for dogs–they have a lots of treats that are good enough (for your dog) to eat!
Pearl Street Lights: they are a Colorado Candle company and they make great ones! Their candles crackle when they're lit, which I love.