Aaron Sorkin's directorial debut had a special premiere early this season as part of Denver Film Society's 40th year of the Denver Film Festival.
Based off Molly Bloom's true story and bestselling book, Molly's Game: The True Story of the 26-Year-Old Woman Behind the Most Exclusive, High-Stakes Underground Poker Game in the World  was presented by Bloom's brother, Jeremy Bloom's non-profit Wish of a Lifetime. As a friend and supporter of Molly's, we were honored to attend the exclusive Denver premier and Q&A between Aaron Sorkin and Jeremy Bloom.
As told in a series of flashbacks, Molly grew up in Loveland and as a teen trained to make the Olympic Ski Team; a dream that her brother, Jeremy Bloom, eventually realizes. After an accident at the Olympic qualifiers puts an end to her professional athletic career, Molly (played by the beautifully smart Jessica Chastain) moves to Los Angeles "to be young in someplace warm" instead of jetting off to law school after college, much to the chagrin of her over-bearing father.
Through some choice encounters and her own hard work, Molly ends up running a high-stakes poker game for LA's elite: actors, businessmen, and industry moguls. Molly's tenacity, honesty, and good business acumen make her poker game a sought-after event for LA's big spenders, and her name and reputation build clout in the scene. It is her good nature and un-willingness to show preferred or special treatment to certain players ultimately loses her that game and reputation. Fast-forward a few years and Molly moves to New York to re-establishe herself and her game very successfully until poor choices and the perils of operating in such a dangerous environment catch up with her.
This brings us to the present timeline, two years after her poker empire has crumbled. Now, for Molly, it's just about defending herself and clearing her good name. The FBI slaps Molly with an indictment and the possibility of prison time even if she complies completely, as we soon learn, is not as simple as that. She convinces a top-notch lawyer to take her case and, as with most Sorkin-lead dramas, this story concludes (we're not going to spoil too much of the ending!) with prose and speeches to champion the cause, both in the courtroom via Charlie Jaffey (played by the masterful Idris Elba), and personally, in a heartfelt exchange between Molly and her father (played by Kevin Costner).
Molly's Game is fast-paced and quick-witted, to match its subject and theme; though anyone who is a fan of Sorkin's other works (The West Wing, Newsroom, The Social Network) will not be surprised by this. His excellent dialogue skills and peppered humor keep the story moving through multiple timelines and lighten the mood, making the film easy to watch and engaging, even if you can't catch all the one-liner zings.
Molly's Game, written and directed by Aaron Sorkin and starring Jessica Chastain and Idris Elba, premiers January 5th, 2018 nationwide.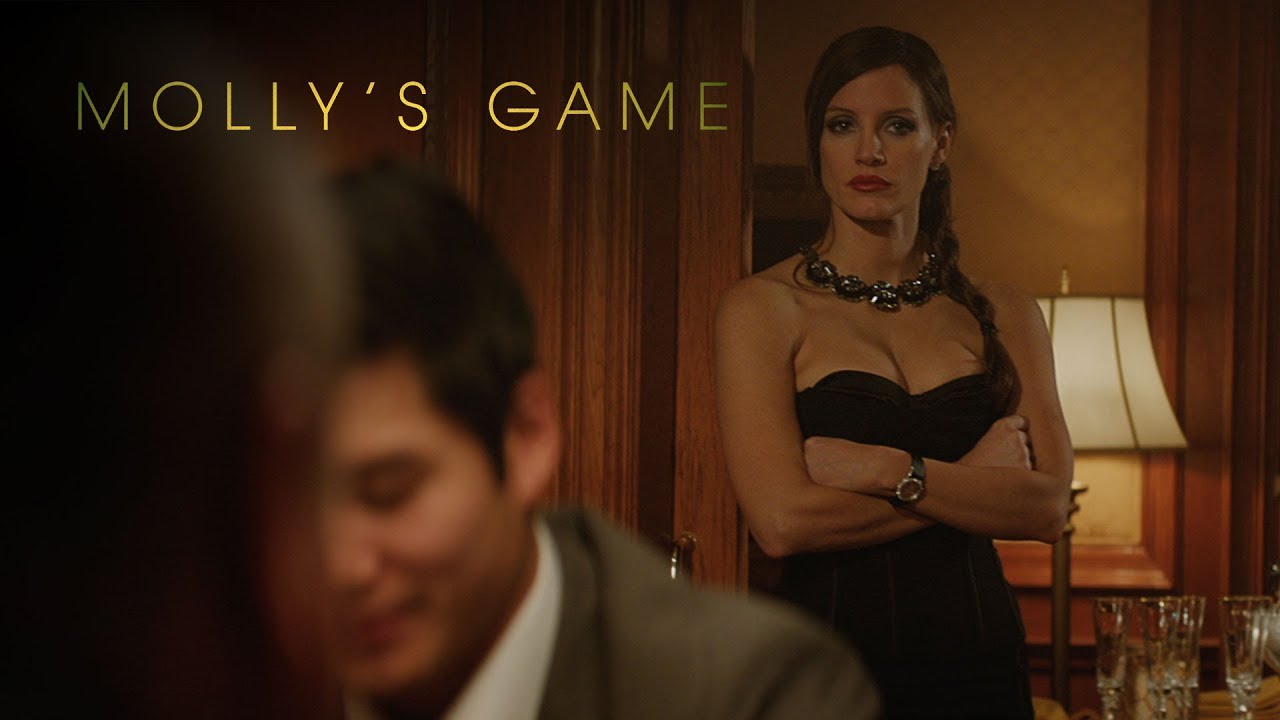 SaveSave