Target Coming to Crestmoor Park/Lowry Neighborhood
What Can the Neighborhood Expect From This New Update?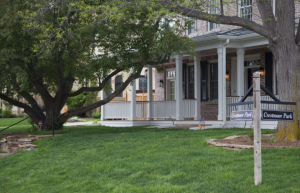 Boulevard one in Lowry is located just East of Crestmoor Park and along the West border of Lowry. As many of you know, I specialize in selling Real Estate in many Denver neighborhoods, Crestmoor being one of them as it's the neighborhood I grew up in! I've been watching this new development blossom to life over the last few years which has been a welcome addition. A few months I heard the news that  Lucky's Market would be moving into the neighborhood which seemed like the perfect fit.
Unfortunately, COVID hit, and Lucky's Market filed for bankruptcy so those plans were thrown out the window!
It now looks like Target will be opening in Boulevard One as opposed to Lucky's. This Target is rumored to be smaller than the beloved Glendale location, which makes sense as the Glendale location is one of the largest and busiest Targets in the County. So what does a smaller Target located within a company look like? It certainly has some residents of the Crestmoor and Lowry neighborhoods unsure. The neighborhood fought tooth and nail to opposed a high rise building a few years ago and has pushed Walmart out in the past.
What Can Residents Expect?
Residents of the Lowry and Crestmoor areas were sent a survey asking what sort of retail business might best fit their needs, with Trader Joes and
Whole Foods as some of the popular recommendations. Target is not a speciality grocery store, leaving residents of the area even more confused about the decision after months of surveying and community outreach.
The decision seems, to many, secretive in nature.
That being said, what can the Crestmoor and Lowry neighborhoods expect from this development? The hope is space for residents of the area to enjoy this outdoor retail and dining space much like the new 9+Co Development at 9th & Colorado Blvd.
Crestmoor will Adapt
Crestmoor remains one of the most popular neighborhoods in the Denver area. It's one of my favorites as well, but I'm obviously biased! Residents knew this development in Lowry was coming, but the problem lies with the lack of public interest by developers. Should there have been more desire to take into account the needs of the residents? Absolutely? Is there still time for change… we're not sure. Stay tuned for more updates on the latest Lowry Boulevard One news.
Have questions about living in Denver? Contact me! I would love to talk with you about buying/selling and my neighborhood specializations. For my latest market stats post, click here.