As one of the fastest growing states in the nation, Colorado's appeal is undeniably far-reaching. As a resident, whether you are a rare native or a transplant, you are already well aware of the allure. Nevertheless, here are some of the reasons we're proud to call the Centennial State home!
Colors of the Rainbow
Colorado comes from the Spanish word for "red-colored." With shades ranging from the bright crimson of the Indian Paintbrush to the warmer hues found in the sandstone at the Garden of the Gods, we get why the name stuck. But, if red isn't your favorite, there are plenty of others colors on display in Colorful Colorado.
Orange: Watch the sunset over the Rocky Mountains or go for a fall drive to see the golden Aspens on full display.
Yellow: It's hard to miss this hue with over 300 days of bright yell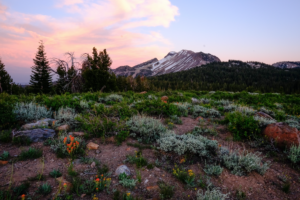 ow sunshine a year.
Green: Though our state fish, the Greenback Cutthroat Trout, is a threatened species, it can occasionally be found swimming through rivers amidst the evergreens.
Blue: Our clear blue lakes and rivers often look magical with our vast blue skies as the backdrop. Since blue is my favorite, I will also point out the Blue Spruce, which happens to be our state tree.
Indigo: Varying shades of indigo can be found in our magnificent sunsets as well as on the wings of our state insect, the Colorado Hairstreak.
Violet: Our purple and white state flower, the Rocky Mountain Columbine, can be enjoyed in full bloom while on a summer hike throughout the mountains.
To experience every color of the rainbow firsthand, visit one of our many national parks. Note: Free days coming up on April 22-23rd.

Sports & Recreation
Don't be fooled by the fact that Denver is the only city in modern Olympic history to have turned down a bid for the winter games — we wholeheartedly adore sports in Colorado.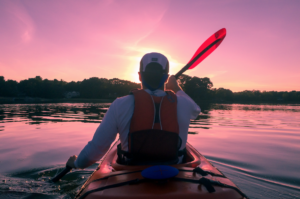 With the warming weather, it's time to hang up your skis and dust off your summer equipment because t-shirt weather is here! Hiking, biking and paddling are some of the best ways to get out and enjoy! Who's up for a fourteener?
If you have a penchant for olympic sports, head to Colorado Springs to become inspired by the athletes who call the Olympic Training Center home. Or, visit Steamboat Springs to catch a glimpse of one of the several world-class athletes who train there. More winter Olympians have come out of Steamboat Springs than anywhere else in the US, thus duly earning its nickname: Ski Town, USA.
Fun Fact: What is the smallest US city hosting four major professional sports teams? You guessed it — Denver! And while many of us are diehard fans of our beloved Broncos, Nuggets, Avalanche, and Rockies, you can also snag tickets to a pro rugby, soccer or lacrosse match in the city.

Culture
Colorado's natural backdrop combined with its major sporting venues provides the platforms for the cultural events that saturate the calendar year-round. A few of our favorites include:
Denver Center for Performing Arts – take in a play, a musical or the ballet at the second largest performing arts complex in the country
Big-name concerts at Mile High and the Pepsi Center – check the lineup regularly as tickets sell out fast
Red Rocks – world famous musicians love to perform at this venue due to the beauty and acoustics
Cherry Creek Arts Festival – if you're in the market for some original artwork for your new home, this is a must-attend
City Park Jazz – this is the 31st season for jazz in the park! Enjoy 10 free outdoor concerts throughout the summer with your family and friends.
A Taste of Colorado – held every Labor Day weekend at Civic Center Park in downtown Denver
Innovation
Contrary to what we've highlighted so far, Colorado is not all play and no work. Many nationally and even internationally known brands and inventions were born here. Those Lärabars that you stash in your Osprey backpack for emergency energy? Both from Colorado. And, don't forget that rugged OtterBox case that keeps your phone intact when it falls out of your pocket while mountain biking or preserves it from a Breck IPA spill around a late-night campfire.
With a high concentration of start-up activity and steady job growth since the recession, it's not surprising that people are flocking to our colorful, champion-winning, culturally rich and creative state!
If you're new to town, here's a quick guide we put together to help acclimate you to the Mile High City.

If you're looking to settle into a new home in Denver, let us help show you the Denver Lifestyle and help you find your dream home!  Give us a call at 720-935-0412.