Denver Has Added Thousands of New Residents
How do we remain courteous with a vast influx of people?

Denver's secret is out: our quiet hometown is blossoming into a bustling sea of new businesses, buildings, and people. In addition, Denver has become one of the most popular cities in the country to live with comparable housing markets to New York and San Francisco. So how do we maintain a level of courteousness when thousands of people with different ideas on how to behave are populating one area? I believe we can do it, and so should you!
Dining with Decency

It's been hard to find any restaurant in the metro area without a 45 minute wait. That being said, we can't ignore that with the large numbers of people moving here came a plethora of amazing restaurants worth waiting 45 minutes for. As natives, how do we practice patience when waiting for a table when we're used to being seated right away? Here are some ways to be a conscientious Denver diner (without raising your blood pressure):
Call ahead. Did you know restaurants pay a fee when reservations are made through Open table? Calling ahead might get you a table sooner, and if it doesn't, at least you'll know how long you'll be waiting.
Splitting checks: tell your server at the start of your meal.
Optimize space: don't stand at the edge of the bar where waiters are trying to get through…just don't.
Never snap, wave aggressively, or wag a finger at your waiter to get their attention. Eye contact is enough.
Let's Just Take a Lyft

Denver's traffic scene has become almost unbearable in some parts of the city. If you don't feel like positioning yourself in the driver's seat, Lyft is an incredible alternative. Additionally, Lyft's increasing popularity around the city makes it easy and efficient to get from point A to point B. There are a few common courtesies we need to take when riding in someone else's vehicle…so here are a few I think are important!
Don't ask for the driver's auxiliary chord. It's their car, let them listen to their music.
Talking on the phone excessively might be mistaken for rudeness. If you need to take a phone call, let your driver know beforehand. We're all people here!
If you've been out having a little too much fun, make sure getting in someone else's car is an appropriate decision!
Asking your driver to make extra stops on your route is a no. Tell them your drop off location and remove yourself from the car there. Simple!
Denver's most five Lyft friendly zip codes are 80202, 80249, 80203, 80204, and 80205. If you live in one of these neighborhoods, consider Lyfting to avoid traffic and practice sustainability!
Hiking Trails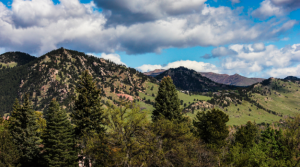 I love hiking Colorado's trails, and I've noticed that hiking my usuals (specifically the ones just outside of Denver) are becoming increasingly popular. Sneaking away for a serene hike is becoming more difficult, particularly on the weekends. The trails are packed with people, dogs, and children who (some) are unfamiliar with Colorado trail techniques. Here are a few ways to be a conscientious hiker (for locals and newbies alike):
Stay on your side of the trail. Now is not the time to practice a sociological social norms test. Stay on the right!
I love to let my dogs run off-leash, but its' important to remember that not everyone is as comfortable with our furry friends as we are. Keep pups on leashes unless in an "off leash" area.
Be mindful with headphones. Making sure you can hear what people are doing around you is important when hiking.
Stay on the path! Straying from designating hiking trails can destroy vulnerable vegetation.
Denver has becoming a bustling, exciting place to live! So much is changing, and with every bit of nostalgia comes something new and fresh to be celebrated. I am honored and thrilled to be living in a city where so much new is emerging, and hope you are too! Cheers to Colorado, the most amazing place in the world to live.
Are you thinking about relocating or moving within the city? Contact me at libbysellsdenver.com or with my contact form. I can't wait to share this amazing city with you!