From Parking Lots to Patio
How The Denver Dining Scene is Transforming to Make Way for Outdoor Seating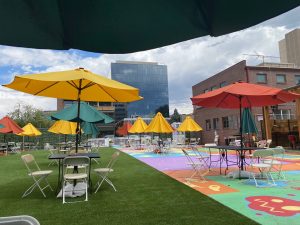 Denver's dining scene is in the middle of a big transition. COVID-19 has brought struggle and strife to many local businesses. So how are the ones staying open adapting to this changing world? We know from much of what the experts are saying that being outside may significantly lower the chances of COVID-19 transmission. And I don't know too many Denver restaurant patios that can hold an entire restaurant's worth of patrons! But, I have been seeing something pretty cool happen around the city: from parking lots to patios.
As time has marched on, I have ventured back out to restaurants leaning towards my favorite spots offering outdoor seating. And the restaurants are taking note as various restaurants are turning their massive parking lots into outdoor patio seating! I love this idea for a few reasons: first, there's so much space, which means staying 6 feet from the tables around you is far easier. Second, it feels much safer to be dining outside, and with all this beautiful weather, what's not to love about some spacious outdoor seating! Third, more tables! I'm so happy that some of my favorite restaurants are pivoting  to stay in business and keep their servers employed! If I can safely eat outside, I'm happy to support our Denver dining scene!
Participating Restaurants: A Guide
Looking for some parking lot seating? Here are a few spots that are expanding their patios for your safety and leisure:
These are just a few of my favorite spots that have expanded their patio seating. I'm so glad to see many of my favorite businesses gaining so much support from the community. I hope you enjoyed this list. Happy dining!
Contact me here for questions about living in Denver. For my latest market stats report, click here.